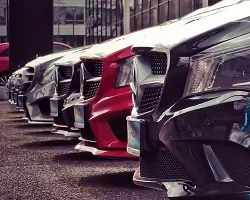 Self Drive Car Hire Insurance - suitable for all rental businesses of all sizes
Car Rental companies come in all shapes and sizes but they have one thing in common - they will all need self drive insurance to make sure their fleet is protected. Cover is needed to protect both cars when they are out on the road and when they are back at base, whether that is at a rental office, in a compound or for the smallest start up ventures on the front drive.
However getting the right cover at the right price will depend on the type of business you are running, and how much experience you have, We detail below a few of the options open to you, and explain why some are more appropriate than others.
Established Car Hire Business Insurance
For established car rental firms who have at least 3 years trading history behind them and have at least 5 vehicles in their fleet. This can however be a mixed fleet of, say, cars and vans.

Premiums can be based on your rental revenue, a day rate, or a rate per vehicle basis – whatever you decide, having heard the options, is most suitable for your car hire business.

The insurer can offer training for your rental desk staff – this is designed to help them root out potentially fraudulent hirers - which in turn can mean lower premiums for you.

They have a smartphone app (free of course) so your car hire customers can report a claim immediately.
Pro's - This is a flexible insurance option tailored around your operation by self drive car hire insurance specialists who look after several hundred companies in this line of business.
Con's - They do not have a proposition for new, or small car rental firms - you need to be established with a track record before you can be considered. They will make an exception however if the business is new and a senior member of the management team has at least three years of experience in renting out cars.
To arrange a quote click the 'Get a Quote' button above.
New or Smaller Car Hire Business Insurance
Suits new car hire businesses or those who have been trading for less than three years and those with less than 5 vehicles.

Also ideal for if you want the flexibility of only paying for insurance when your cars are being hired out.

It will be combined with a Motor Traders or Standard Vehicle Policy (to cover your car(s) when they are not out on hire).

The hirer puts the insurance in place so can be certain your motorhome is fully insured whilst on the road.
Pro's - This is a very flexible Pay As you Go approach and perfect for those looking to avoid significant upfront costs whilst growing their business.
Con's - Insurance costs are calculated individually for each hirer, so quoting a standard inclusive rate for hiring out is trickier. There is also a bit more admin involved as the insurance needs to be put in place for each rental.
You will be responsible for checking and verifying licences, through relevant services. Also checks on the hirer, confirming their address and identity are needed. This is an UK Anti Money Laundering legislation requirement.
To arrange a quote click the 'Get a Quote' button above.
Peer to Peer Car Hire websites
These websites, which introduce those want to hire a car to people happy to rent out their vehicle to other private individuals, arrange insurance for their users during the booking process.
Pro's - a really easy way of renting our cars with no upfront costs - the insurance side of things is all taken care of for you. A good way of dipping your toe into the car rental business world as there is a lot of support provided.
Con's - Up to 30% of the rental charge is taken by the site you use. You are normally tied to just one site too.
Insurance organised by the Hirer
A good solution if you are hiring to friends and family.

Hirer buys the policy in place and pays the insurer directly.

Claims are instigated by the policyholder - i.e. the person who has hired the car rather than the owner.

Claims do not affect you, as the policy is the hirers - so its their insurance record or no claims bonus that might be impacted

As the car van owner it is vital to find any damage immediately the car is returned as trying to get a third party to claim after the event would be difficult.
Pros - The Insurer deal with the legal requirements regarding identifying the policyholder to meet Anti Money Laundering legislation. Vehicles can be hired on an 'excluding insurance rate' basis with claims not affecting your policy record.
Cons - as a hirer you are not in as much control as you are not the policyholder. The excess on the policies tend to be higher for rented cars than they do for just borrowing a car
One company offering such a policy is Safely Insured.
Any Queries? Call us! Unlike other comparison sites we have people to help on hand! Just call us on 0118 321 8197. We'll be happy to help.
This content was last reviewed on 26/10/2021