Voucher Codes
>
Holidays
Holidays - Discount Codes, Voucher Codes & Special Offers
Use our discount and voucher codes to save money on holidays around the world. Offers on both packaged holidays and build your own breaks
Save up to £150 on your next easyJet holiday this April to June
Save £100 off your holiday on minimum spend £800 and save £150 off your holiday on minimum spend £2000

Valid on holidays 1st April 2022 to 30 June 2022 inclusive

Up to £150 off per booking with code EARLYSUMMER. Save £150, min spend £2,000 and save £100 min spend £800.

Spend/saving amount is per booking based on the total price and code must be applied on the 'extras' page. Promo code valid for new bookings made between 09.00 Wednesday 9/3/22 and 22.00 on Tuesday 15/3/22 (inclusive) for holidays taking place between 1/4/22 and completed by 30/6/22.

Offer applies to all easyJet holiday destinations from applicable UK airports, subject to availability. Prices are subject to change. Offer may be changed or withdrawn without notice. Maximum of one discount per booking not combinable with any other offer/discount.

If a booking including this discount is changed/cancelled, the discount will no longer be valid on the new/amended booking. Offer not available by phone. Booking Conditions apply

Prices are subject to change. easyJet holidays Ltd (ABTA Y6633) is ATOL protected (11694)
Use code: EARLYSUMMER
Activate Discount
Holiday deals from lastminute.com
Looking for a deal on your next holiday? Find flash deals and cheap deals on holiday flights and complete packages at lastminute.com If there is a voucher code then we will display it here but if one is not needed simply click on the voucher link below to see holiday deals.
Activate Discount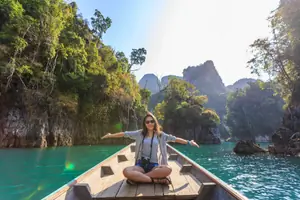 If you are looking for one location to bring a range of great deals on holidays you are in the right place.
We bring together offers from a range of airlines, holiday companies and accommodation providers to help you save money on your next break.
The types of holidays we are likely to offer discounts on include
Package Holiday Offers
Package holidays is created when you stay away for at least 24 hours and two or more of the following elements are provided by a single company -
your accommodation (maybe a hotel room, apartment, house or villa)
your transport (maybe a flight, ferry, coach, car hire or train)
something else that forms a significant part of your holiday - (maybe a cruise, ski hire or theme park tickets)
That single company could be a travel agent or holiday company - but they will either involve a single payment for the packaged elements or if a company who has directly sold you one element then sends on your details to another company and arranges that part of your holiday on your behalf too (and within 24 hours of your initial booking being made) that would also be deemed to be a packaged holiday.
Be aware of the difference here though - if you find a great holiday offer and book your flight, accommodation and car hire through the BA website you make one payment for all three so all three are 'packaged'. However if you book a holiday with Easyjet Holidays the flight and the accommodation will be packaged - but although you found your car hire deal through the Easyjet site because you then search for the car and pay for that separately the car hire will not be part of your package.
If a company sells you a holiday and calls it a package holiday then it will be deemed as such too.
Why is it important too know whether your holiday is Packaged?
If you buy a package holiday then there is a raft of consumer protection that will help you if things go wrong.
The most important is that you will be protected, normally through a financial protection scheme called ATOL (Air Travel Organiser's Licence).
This means that should your holiday company fail you will be both financially protected and provided with return travel should the firm you found your holiday offer through fail while you are away.
Independent or Build Your Own Break Bargains
Many travellers now will build their own holiday - grabbing a flight through Skyscanner a hotel room through [Booking.com](/link/ booking-com), and a car hire from a site such as Clarifycarhire.co.uk.
And many enjoy being able to hone their break to their exact requirements.
However it is important to understand that as this is not a packaged holiday deal then you are unlikely to have the protection either. However that's not to say that you cannot get it - there are travel insurers who cater for the independent traveller - read about those specialising in Holiday Travel Supplier Failure Insurance
This content was last reviewed on 04/03/2022