Compare Car Hire Insurance Prices from the UK's Leading Insurers
Car Hire Insurance costs a fraction of the price car rental firms charge when you use the MoneyMaxim car hire insurance service!
Car Hire Insurance
Specialist Vehicle Hire Insurance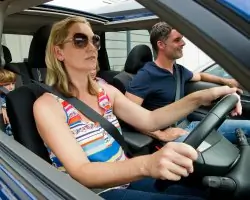 MoneyMaxim is the UK's leading site for comparing all forms of car hire insurance. We can help you find a great range of the best car hire excess insurance policies on the market.
If you are renting a car where basic insurance is included, a car hire excess policy will cover you for the 'excess' - the amount you are liable for before your rental company's insurance starts paying up. It's invaluable protection as 'excesses' tend to be from £500 to £3000 - and your rental company will charge up to 10 times the price of the policies we sell to provide similar cover. All our policies will also cover you should you have to claim for the tyres, wheels, underbody or roof, and most policies will cover glass. These are all areas left out of from standard car rental insurance policies.
Our service comes highly recommended by our users, who have saved millions of pounds by using our service rather than buying cover at the car rental desk.
Why not join them and see how much you can save?
You may be hiring a car in a part of the world where the rental company doesn't provide any cover for your hire vehicle. In this case you can avoid the high rates hire firms charge for Collision Damage Waivers (CDW) by buying an independent policy. Get a quote through our service and you will find a range of policies that will provide you with better cover (as damage to your tyres, wheels, roof, underbody and windscreens will all be covered) and save you a fortune as well.
Common areas where CDW policies may be needed are the USA, Canada and the Caribbean. Policies may also be needed in South America, Africa and parts of the Middle East.
Supplementary Liability Insurance (SLI) tops up third party insurance provided by your rental company to US$1m. You can be reassured that you have enough insurance to cover you if you are involved in an 'at fault' accident. You should always make sure though that basic local third party insurance is included in your rental package even if this is at a low level. Some policies can also provide primary SLI cover but at a lower limit - usually US$250,000.
Whilst in Western Europe you would normally expect to get this sort of level of cover automatically, when you hire a car in the areas listed above it can be a very different matter. In some states in the US, and islands in the Caribbean you can find your cover limited to a few thousand pounds. This could put you in a position of severe financial risk if you had a serious accident.
Van Hire Excess Insurance protects you from being charged an excess should the van you are renting be damaged whilst in your care. Don't leave yourself with a bill of up to £1500 - buy van hire excess insurance for just a few pounds a day and protect yourself. All policies sold through our service include cover for damage to tyres, roof, underbody, and wheels. These areas are normally excluded from any policies sold by rental firms directly. Most policies will also cover the glass and mirrors too.
This is a very popular product for anyone hiring a motorhome, campervan or RV. Policies are available for rentals anywhere in the world and cover the excess on your rented vehicle. As these can be huge - up to £5000 in some instances - excess insurance is considered by many to be an essential purchase when renting a motorhome. Also included on all policies is cover for tyres, underbody and roof, and most include cover for glass areas too - damage to any of these can leave you with a very large bill, but can be protected with an insurance policy via MoneyMaxim
If you are a car club member you can make huge savings by buying an annual car club excess insurance policy. This means that, should you be held responsible for any damage to your car club car (including damage to the tyres, wheels, windscreen roof or underbody), you can claim back the amount charged by your car club. For under a couple of pounds a day you can make sure you are fully protected from a large excess bill for your car club car.
Need help - please do contact us and we will be happy to provide further assistance
Image courtesy of: Vasile Cotovanu
This content was last reviewed on 14/11/2023