Make sure you don't end up spending hundreds of pounds too much on your car hire!
Don't let car hire companies get the better of you. We show you how you can beat them at their own game.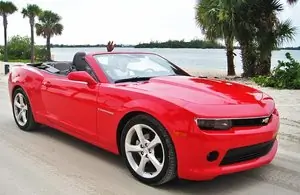 The No 1 Saver - Buy your excess insurance before you go
It may look like you are getting a bargain for your car hire but are you really? Many car hires may look cheaper upfront but when you delve a little deeper it may be a different story.
Check what insurance is included
Some companies make their money by flogging you their additional insurance when you get to the desk. These are eye-wateringly expensive. Say no. Instead buy an independent policy that gives greater cover at a fraction of the price. You will need to leave a credit card deposit to the same amount of the excess you are liable for – but boy is it worth it! You can easily save £300 on a two week rental.
Look out for car hire with Free Cancellation
If they are offering free cancellation then use it! Keep your eyes peeled for cheaper offers and, if you find one, cancel your original booking and get a complete refund. And there is nothing to stop you from doing it again and again if you find an EVEN better deal!
Get a fair deal on your fuel
Don't pay for fuel that you don't even use. Full to empty fuel policies are just an excuse for car hire companies to make money. If you don't use your full tank, then the next customers will be charged for the same fuel that was left in your tank. How is that right? A full to full policy is what to look out for. You will only pay for the fuel you use. Much fairer don't you think?
Don't pay for 'Extras'
We don't mean refuse to pay - but it can cost up to £100 to hire just one child car seat for a week - instead take your own on the plane for nothing (check with your airline for luggage allowances). Not to mention SatNav hire which can cost upwards of £40. Why not use an app on your phone instead? And let's consider additional driver fees. Search for companies offering a free additional driver instead.
Never hire a car without excess insurance
Or you could face a horrifying bill at the end of your car hire. Excesses can run into thousands of pounds. Cracked windscreens, punctures or damage to the roof? You could be charged for these too. You can reduce the chances of being charged by filming the state of the car before you leave the car park (use a selfie stick to check under the car which is tricky to check but expensive to repair). However even with that evidence you can find your credit card has been charged and excess insurance is often the only way of getting that money back.
Confused with the jargon?
If all the acronyms and abbreviations that seem part and parcel of renting a car get you confused do read Our Comprehensive Guide to Car Hire Terms - you will soon be able tro hold your own with any car hire company.
We at MoneyMaxim help protect more car hirers than anyone else in the UK, offering car hire excess insurance with discounts of up to 50%. Pay just £1.70 a day for cover that could cost you £25 at the desk!
Just click through on the links above.
This content was last reviewed on 16/11/2021