Minibus Insurance - Compare Prices for your Minivan with MoneyMaxim
Minibus Insurance from MoneyMaxim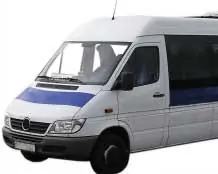 Whether you are a school, sports club, charity, nursing home or have a minibus for Public or Private Hire, if you own or manage one or more minibuses, then we are your ideal partner when it comes to finding the right insurance policy for your organisation. Minibus insurance can vary in cost considerably, so it's always worth shopping around. Whether you have just purchased your first Minibus or manage a fleet (visit our Motor Fleet Insurance page for fleet minibus insurance) we can assist.
The panel of specialist insurers are able to not just provide competitive quotations, but are also able to suggest ways of minimising your premium. Adding your organisation name and logo can provide a great way of raising awareness of your organisation and attracting interest but can also help reduce your insurance premium as it makes your minibus more difficult to move around without being noticed. By entering just a few details to get started, we can then put you in touch with insurers who are interested in providing a policy to you. By talking through your needs with them in more detail, you will be reassured that you have the right cover for your needs.
Enter your details via the green quote button above and you can get started straight away.
Do ask any potential insurer for their suggestions on reducing premiums - free advice is an added extra you can automatically access via our insurers! They want your business so will help in any way they can.
When seeking minibus insurance it's important to ensure it meets your organisation's needs without providing unnecessary cover or going without cover that is vital. If you are only going to use the vehicle in the UK, then European cover is unnecessary. If you have a tracker fitted, make sure your insurer is aware of the fact.
Questions you may wish to consider talking through with the insurer before commencing your minibus insurance quotation are:
Do you need an Any Driver policy or would you be able to restrict it to a few named drivers?
How much would it be to add a temporary driver?
What sort of use will your minibus be put to?
Social, Educational, Charity?
Do you need Personal Effects cover?
How about window and sunroof cover?
Fill out our enquiry form above and we will get a great range of insurers working on your behalf.
This service is operated on our behalf by Seopa Limited.
This content was last reviewed on 13/04/2022