Takeaway Shop Insurance - Compare Prices for your Fast Food Business and Find Competitive Quotes
How much does catering insurance cost? What insurance is needed to deliver takeaways?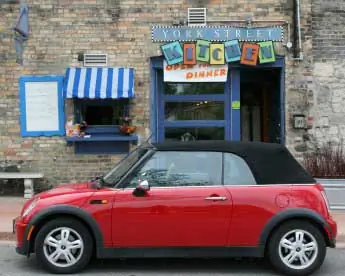 Whether you run a Fish & Chip shop, Kebab House, Pizza Parlour, Sandwich Bar, Burger Bar, Chinese, Indian, Mexican, Hot Potato or Pie & Mash business, we are here to help.
Catering businesses come in all shapes and sizes. Fast food and takeaways are a common sight on the high street - some offer purely delivery or takeaway whilst others also offer seating. If you are looking for cheap insurance for your takeaway business come to us.
How can we help find quick and easy quotes for a takeaway business?
We work alongside a great panel of insurers all interested in helping your business. By asking for a quote you will not only get great quotations from a range of insurers and brokers, but also benefit from their vast knowledge of insuring similar restaurants and takeaways.
Fill in the simple form below (if you cannot find your precise type of business enter 'Take Away Food Retailer' in the Business Trade Box) and we will get on the case immediately.
What insurance do I need for my takeaway business?
When you are looking to insure your Fast Food Restaurant, Takeaway Business or Cafe you will be presented with a multitude of choices. Whilst most standard policies will cover you for your kitchen or cooking area (and related equipment), stock, your public, product and employers liability cover together with malicious damage and loss of earning cover should you have to close due to fire, theft, storm or flood, you should also consider covering yourself for theft of money, and glass or shop front damage. If you are intending to do any work to the premises you might need cover for tenant's improvements as well.
In addition to these features, do also consider whether cover in the following areas would be sensible.
Goods in Transit Insurance - say if you collect items from the cash and carry

Cash off the Premises - if you walk your takeaway food takings to the bank

Frozen Food Insurance - protecting you if your freezer(s) break down causing wastage

If you undertake deliveries there may be additional factors to take into account depending on whether your food is delivered by your employees or sub contracted deliverers.

Legal Expenses insurance covering the costs of legal action should you have disputes with suppliers, or staff employment issues.

'All Risks' insurance covering business property you take from your premises. Remember items such as a laptop you might carry between your home and shop.
Why compare quotes for a takeaway business?
By using our comparison service you can enter your details once and you can be reassured that those companies that quote want to help you with your business.
If you are a new takeaway owner, by talking to one of the companies about their quote, you can tailor it to your requirements and make sure you have the ideal insurance for your restaurant.
If you are an existing takeaway or cafe owner, renewing with your current provider can feel like the simplest option but you are likely to be missing out on a great deal. Compare today to see how much you could be saving on your catering business insurance.
Peace of mind...
A few minutes thought before committing yourself to a takeaway insurance policy can significantly reduce your stress levels at a later date should an incident occur.
If you also sell take away food from a catering van, trolley or trailer, why not ask us for a quotation for that part of your business as well. Our Catering Van Insurance offers great deals on all kinds of mobile catering vehicles.
This service is operated on our behalf by Seopa Limited.
This content was last reviewed on 06/12/2021