Van Insurance - Compare Prices for Combis, Transits or Lutons with MoneyMaxim
Van Insurance from MoneyMaxim - great choice - great prices - and now with a £20 Amazon Voucher when you buy a policy*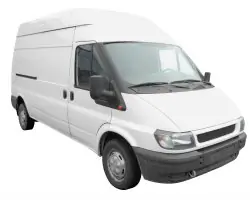 Get a £20 Amazon Voucher when you buy a policy through the MoneyMaxim Van Insurance Comparison Service.
Not only can you find some of the best van insurance policies and prices from over 50 insurers and brokers but now the icing on the cake is a free £20 Amazon Voucher for everyone taking out a policy (terms and conditions apply*).
You can find commercial insurance for your van. No matter what your trade or business, be it plumber or carpet fitter, painter or delivery man, we can find great van insurance at a price you can afford.
We can also help those seeking van insurance covering social, domestic and pleasure use - in other words van insurance for personal use rather than for business purposes. Or of course insurance can cover both!
Use our online comparison form to search a wide range of van insurers and brokers..
You will find this specialist panel of insurers provide a wide range of policies designed for all sorts of van drivers, driving all kinds of vans.
Remember that, as well as van insurance, you can access breakdown cover, legal expense protection insurance and commercial / business car cover. Run an online quotation now!
If you prefer, call for a quote over the phone. Companies able to offer telephone quotations include Adrian Flux Van Insurance on 0800 181 4542 (Monday to Friday 9am - 7pm and Saturdays from 9am - 4pm) or Autonet on 0800 080 5295 quoting reference 9032). Unfortunately policies bought through these companies do not qualify for our Amazon voucher offer.
When starting your search for Van Insurance it's well worthwhile taking time out to consider all the ways you are likely to use your van. If you don't, you run the risk of buying cover you don't really need or finding you are not covered for a risk that is required. Amending a policy to include extra cover later normally attracts administration charges.
Some of the features you can consider are:
Do you only carry your own goods or is your van ever used for haulage
Is trailer cover required?
Will you need Goods in Transit cover?
How about European Cover?
Do you have a Tracker fitted?
Are there discounts for a Datatag?
If you are a member of a trade body can your policy costs be reduced?
Choose Comprehensive, Third Party Fire & Theft or Third Party only cover when taking a policy, but do check out the saving you are making if opting for a Third Party policy - often they are surprisingly small.
Do you require Any Driver cover?
For companies who operate more than one vehicle, run a quote for Motorfleet Insurance selecting the appropriate 'Any Driver' option.
For single van insurance with 'Any Driver' cover, contact Adrian Flux on 0800 181 4542 (Monday to Friday 9am - 7pm and Saturdays from 9am - 4pm) or Autonet on 0800 080 5295 quoting reference 9032). Please be aware that policies bought through these companies do not qualify for our Amazon voucher offer.
When we undertake our online seach to find you affordable and great value van insurance we are partnered with the following companies: Acorn, Admiral, Adrian Flux, Apricot, Arkwright Van, Autonet, AXA, Barry Grainger, Brightside, Budget Van Insurance, Carole Nash, Complete Cover, Computer Quote, ConstructAQuote, Dial Direct, DNA, Doddle Cover, Easy2Insure, First Insurance, Fortis, Freedom Brokers, Gladiator (Admiral group), GoSkippy, Grove & Dean, Hastings Direct, Hughes Premier Van, Igo4, InsuranceFactory, InsureWiser, MasterQuote, MCE Vine, MotorQuote Direct, Motor Vision, Nova Insurance, OneCall, One Insurance Solutions, Performance Direct, Pex Insure, Principle Insurance, Quote Detective, Quoteline Direct, RCIB, RSA Van Choice, ScreenTrade, Steveley Head, Surething, Swiftcover, Van Compare, VanNet, Vans4Leisure and Zenith.
This service is operated on our behalf by Seopa Limited.
*Amazon Voucher Offer Terms and Conditions
This offer applies if you obtain a quote online and take out a new van insurance policy through the MoneyMaxim Van Insurance comparison service operated by Quotezone.

Offer does not apply to existing policies, or policies that are renewed.

Your cashback will take up to between 11 and 15 weeks to process (sorry it takes this long but this is due to the reporting processes of the insurers). We will contact you when your purchase has been validated for this offer.

Only one cashback amount is paid per new policy.

This offer may be withdrawn at any time by MoneyMaxim.

MoneyMaxim retains the right to reclaim any cashback payment issued under this policy if your policy is cancelled by the insurer or you for any reason within the 12 months term of cover to which the Van Insurance relates.

The payment through the cashback offer will be made in the form of an online voucher and will be sent to the email address used to purchase the policy.

This offer is organised and offered by Moneymaximiser Limited trading as MoneyMaxim registered in England No. 670621. Registered Office: 8 Market House, 19-21 Market Place, Wokingham, Berkshire, RG40 1AP. Authorised and regulated by the Financial Conduct Authority.
This content was last reviewed on 19/10/2021