Portugal - Electronic Toll Roads and How They Work
We explain the intricacies of using Toll Roads in Portugal. Know the ins and outs of using the A22 in the Algarve and other Portuguese toll roads.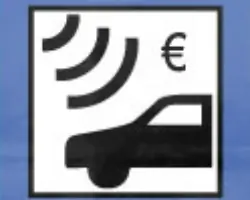 At the end of 2011 Portugal introduced its first electronic toll road, the A22 parallel to the Algarve coastline. Now there are many of these roads across the entire country and more being established year on year. This map shows the current locations of toll roads in Portugal.
There are different types of toll roads in Portugal. Some of the familiar booths at the start, or you may have to take a ticket when you enter the road and pay at a booth when you leave. More common now are the electronic toll roads and, in particular, the Via Verde lanes.
So how do electronic toll roads work?
Instead of having pay booths which can slow down traffic and have people rooting around in their cars looking for spare change, cameras automatically identify your car. You are then charged for the roads you use. Look out for the signs (shown in the above picture) and the gantries with cameras overhead which will indicate you are entering an electronic toll road. Please be aware that the Electronic Toll Roads indicated by this sign are NOT the same as the Via Verde lanes.
How do I pay the charges?
There are several different ways to pay.
You can choose to pre-pay by using one of three options:
Tollcard - Tollcards can be purchased online or at service stations and are then activated by using text messages so you will need a mobile phone that works in Portugal. You will need to text your licence plate and credit card numbers. The downside to this system is that you could leave Portugal without using all of your credit.
Easytoll - This system enables you to link your credit card to the licence plate so it can be automatically charged. You can sign up at Welcome points at many border crossings. The Easytoll can also be bought at dispensing machines at some service stations. You will be issued a ticket as proof of purchase and your registration is valid for 30 days. If you are in a hired car - make sure you call to cancel the membership when you leave.
Tollservice - This is a prepaid ticket valid for 3 days which allows unlimited use of the toll roads. You can also buy prepaid tickets for specific journeys for example from Spain to to Faro Airport. These are available at several service stations and at Porto and Faro airports as well as through the CTT Post Office.
Bear in mind that these options do not qualify you to drive through the Via Verde lanes.
If you do not want to pay in advance, there is the option of paying after you have used a toll road. You can pay from 2 days after your journey up until the fifth day. If you are late paying, however, you will be liable to fines and possibly admin charges. Note: This facility is not available to those driving foreign-registered (non-Portuguese) vehicles.
Payment can be made at all Post Offices(CTT) or at shops designated specifically as Payshops. Although the Payshop website is in Portuguese, you can translate it using service such as Google Translate.
Using a Via Verde device (also known as a transponder)
These can be used to pay for Via Verde lane use AND the Electronic Toll Roads.
Your hire company will quite likely offer these for hire. They are frequently already installed in your hire car. If you wonder where the device is, have a look behind your rear view mirror! The tolls are paid by you to the car hire company at the end of your hire when you return the car. As charges take 48 hours to go through, any that you incur in the last couple of days of your hire will be charged straight to your credit card.
Hire costs for the Via Verde box will vary but expect to pay about 12 Euros for the week. The toll rates will depend on how many you use and the length of your journey on them. You will hear your device bleep when you pass under a gantry on the electronic toll roads or Via Verde lanes which will signal that your vehicle has been registered.
If one isn't installed, they can be hired from CTT Post Offices, Via Verde stores and many service stations. Alternatively use the pre-payment options but avoid Via Verde lanes.
When you hire a car in Portugal it is important that you ask your car rental company how tolls are to be paid.
You may consider trying to just avoid the toll roads but this may be easier said then done. If you do not have a transponder in your hire car, hire one yourself or pre-pay but use a toll road then the bill will go to the car hire company and you will face a larger than necessary debt for the tolls, fines and admin charges.
More information is available from Portugal Tolls
This content was last reviewed on 26/09/2017