Classic Car Insurance - Compare Prices for your Cherished Vehicle with MoneyMaxim
Classic Car Insurance. We offer competitive quotes for a huge range of classic cars.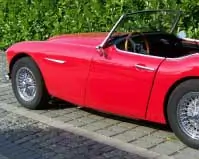 Classic car insurance is pretty unusual - whilst most types of specialist insurance tends to be more expensive than normal modern car insurance this is not the case with classic car insurance. Here it is, in most cases cheaper, reflecting the fact that owners take very good care of their vehicles and drive them less frequently. This means a lower claims ratio and thus lower premiums.
This insurance is, however, designed for cars that have been cherished and therefore insurers expect the value of the vehicle to be at least £1500. If your vehicle has a lower value, we would suggest using our standard car insurance comparison service.
Fill in your details in below and we will approach a panel of specialist insurers, but then discount those who are not able to help classic car owners in your situation, whether that's due to your type of vehicle, where you live or past claims record. This means the companies who then contact you are amongst those that are in a position to help you.
Save time, money and hassle with MoneyMaxim.
Some features of Classic Car insurance to consider are the following:
Will you get an agreed value for your classic car? (if not consider gap insurance)
Are you a member of a car enthusiasts club? - many of our panel will offer discounts if you are
Do you plan you use the car for track days?
Will you use the car for timed trials or rallies?
Do you want to be able to choose where any repairs will be carried out?
Is business use required?
If you are only going to drive your classic car a limited number of miles, ensure you advise your insurance company - discounts often apply.
Will you require cover to attend static rallies or shows?
We do not offer the normal comparison service for classic car owners as often we find specialist insurers a better option. Instead, we pass your enquiry to the specialist brokers who love insuring every type of classic car. The insurers we are partnered with are experts in their field and know both what classic car drivers are likely to want and the companies most likely to suit them - get cheap classic car insurance quotes fast with MoneyMaxim and our partners.
Please remember that policy benefits, features and discounts offered may differ between insurance schemes, policies or on the basis of the cover selected and are subject to underwriting criteria.
This service is operated on our behalf by Seopa Limited.
This content was last reviewed on 20/04/2022