FAQ Section
>
Car Hire Insurance Frequently Asked Questions
>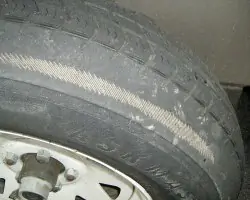 Is damage to windows and tyres covered?
Want to know what happens if you damage your hire car's windows, tyres, underbody, roof, wheels or mirrors?
Car hire companies almost all exclude glass, tyres, wheels and the undercarriage of the car from the cover provided by their Collision Damage Waiver products.
Normally glass is deemed to include both the windscreens and things like mirrors and lights in its description, and the wheels and tyres exclusion covers everything from punctures to slashed tyres or stolen spare wheels.
As well as these areas, damage to the roof or underbody of the car is also excluded. Damage to the underbody can be extremely costly.
This is because the cover you get with your car hire is 'Collision Damage Waiver' therefore it covers just that - and damage to these other parts of the car do not normally involve a collision. Also the car hire firms believe that damage in these areas is normally down to negligence on the part of the driver but whatever- most of us would feel really aggrieved to spend our holiday cash on a window chipped by a flying stone or a punctured tyre.
Be aware that in the vast majority of cases, taking out the car hire company's excess waiver does not extend cover to include these areas - it tends to do just what it says - waive the excess.
The 'No Excess' car rental company Zest Car Rental offers a cheap way of insuring these additional areas, although the total price may be higher than taking an excess policy through the MoneyMaxim car hire insurance service and finding the cheapest car hire deal on the market. We suggest you visit our specialist car hire page where we have tried to make your research as straightforward as possible!
All car hire excess products available through MoneyMaxim cover the wheels, tyres, underbody, roof and glass areas. They also provide, if required, excess protection or full Collision Damage Waiver and Supplementary Liability Insurance.
Compare car hire insurance prices with MoneyMaxim
If you have any queries do call a member of the MoneyMaxim car hire insurance team.
This content was last reviewed on 19/10/2021
Similar Questions
General Car Hire Insurance Questions Answered
Purchase related Questions Answered
Geographical related Questions Answered
Vehicle related Questions Answered
Daily and Annual Policy related Questions Answered
Claims related Questions Answered
Excess Insurance Questions Answered
Combined Worldwide CDW, SLI & Excess Policy Questions Answered
Questions on CDW & SLI Policies for the USA and Canada Answered
Car Hire Companies - Your Insurance Questions Answered
Your Driver related Questions Answered
Car Rental Keys Questions Answered
Excess Insurance Questions Specific to Countries