FAQ Section
>
Car Hire Insurance Frequently Asked Questions
>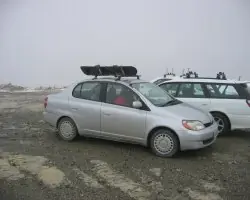 No Excess Car Hire - What does this include?
If you are unsure about what no excess hire is, continue reading to find out who offers it, and exactly what it includes.
It depends on the company you are looking to hire from - some such as Zest Car Rental do offer good cover within their stand rates on many cars (although they exclude wheels, tyres, undercarriage etc. unless an additional premium is paid).
Additionally some car hire comparison services - such as Clarify Car Hire - who have a special filter for No Excess Car Rental now allow you to select cars where excess protection is already included in the price.
Most website though assume that you are happy to be responsible for the large excesses that are typical, partly it seems because it gives the site an opportunity to sell you excess cover at an inflated rate, as this forms another income stream for them.
The important thing to note are excluded areas - almost all rental firms (unlike the insurers featured on the MoneyMaxim car hire insurance service) exclude the glass (windows, lights and mirrors) wheels and tyres, roof and underbody of the car.
Some, however, go further and also exclude other damage caused by what they deem as negligence - and an example of that could be damage inflicted in a car park (by you or a third party). We have never seen one of our insurers quibble over such a claim.
We therefore suggest you read the details of your responsibilities carefully when renting the car to ensure you are comfortable with the cover being offered and, if you are not comfortable, consider obtaining a quotation through the MoneyMaxim car hire comparison service which offers quotes for both your car rental and car hire insurance policy independently of each other. It can frequently be the case that prices through 'no excess car hire' companies are at a premium to those from standard rental companies meaning this method often delivers cheaper results overall.
One last point to make is that often the cover provided by car rental firms comes in the form of a waiver rather than an insurance. This means that if you have any problems you do not have the fall-back of the Financial Services Ombudsman if you do not agree with the way a claim is handled.
Compare car hire insurance prices with MoneyMaxim
If you have any queries do call a member of the MoneyMaxim car hire insurance team.
This content was last reviewed on 29/10/2020
Similar Questions
General Car Hire Insurance Questions Answered
Purchase related Questions Answered
Geographical related Questions Answered
Vehicle related Questions Answered
Daily and Annual Policy related Questions Answered
Claims related Questions Answered
Excess Insurance Questions Answered
Combined Worldwide CDW, SLI & Excess Policy Questions Answered
Questions on CDW & SLI Policies for the USA and Canada Answered
Car Hire Companies - Your Insurance Questions Answered
Your Driver related Questions Answered
Car Rental Keys Questions Answered
Excess Insurance Questions Specific to Countries