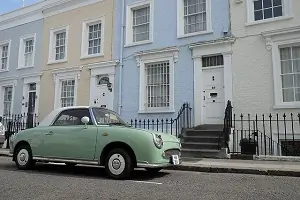 If you are new, or relatively new to the UK we can help you find your way through the process of buying a house in this country.
We will help explain how those who have not been in the UK very long can apply for a mortgage, and the application process involved.
We can also help you apply for a mortgage as we have relationships with mortgage providers who specialise in loans to those who have not lived in the UK for long.
Can I buy a house in the UK?
The first point to make is that there is nothing to stop someone who is not a UK national, or someone who does not live in the UK from buying a house in the country. So if you have the capital to do so you are able to purchase a UK property. If however you require a loan to finance your property purchase it can be slightly more complicated for those who do not have a history here - but we can help smooth the path to success in getting a home loan.
What mortgages are available in the UK?
The UK has one of the most vibrant mortgage mortgages in the world - driven by the fact that home ownership is very popular.
Mortgages are used by a significant proportion of UK residents to buy their homes, and there is a high level of variety in the forms these loans come in. Many are also available to those who have not been in the UK for a long period.
Why should someone new to the country buy a UK property?
Apart from the obvious fact that it provides a home to live in it is an undeniable fact that for many decades UK house prices have risen considerably, and the wealth that this has created trickles down from generation to generation, fuelling the desire for home ownership.
Planning regulations have left the country short of the number of homes needed to house the population, and this in turn has driven prices higher. Obviously at times prices fall back, particularly during periods of economic uncertainty, so a UK property should never be looked at as a short term investment, but for those wanting to look long term it is highly likely that buying a house in the UK will lead to capital appreciation over a period of 5 or more years.
Whilst renting a home offers greater flexibility using a mortgage to buy a property can be cheaper especially during periods of low interest rates.
How long will I need to have been in the UK before I can apply for a mortgage?
The two requirements you are likely to need to get a mortgage here are:
You must have a permanent address in the UK - where you pay the bills - and will have have to have documentation to prove this such a utility bill or a council tax demand in your name.
You must have a UK Bank Account
This means in practice that you will have had to have been in the UK for least two months - and if you meet the criteria above that is when we can ask our mortgage brokers to start hunting down mortgage deals specifically designed for new arrivals in the UK.
What requirements must be met to get a mortgage if I have not been in the UK long?
Many of the following are the same as they would be for UK residents, but there may be slight tweaks you should be aware of.
You will need to demonstrate you have a sufficient income to repay the mortgage, which can be an issue if you are a freelancer or are self employed - in these cases lenders normally want to see a couple of years accounts showing how much you are being paid. It is much easier if you can show pay slips from an employer to show how much you are earning. It is also true to say that some lenders prefer your earnings to be in the same currency as your loan - as this reduces the risk of currency movements making your mortgage less affordable.

You will need to show how you will pay the mortgage throughout the term of the loan. This will mean you are likely to have to apply for a mortgage that will be repaid by the time you expect to retire. This is more flexible now as fixed retirement ages are declining in popularity and many lenders are willing to accept 70 as a reasonable age to retire at.

You will have to evidence reasonable job security. If you have only just moved jobs some, but not all, lenders will be less keen to agree a mortgage as you have less job security in the first two years of starting work with a new employer.

Having a reasonable credit score - if you do not have a track record in the UK, having only recently moved to the country from abroad, the number of loans available to you will be more limited. However you can help yourself here - for example getting registered on the voters roll / electoral register, and keeping your payments up to date on any loans or payment agreements (such as mobile phones or utility bills) is a must.
---
Other Services for Users who are New to the UK

Car Insurance for those moving to the UK
Short Term Car Insurance for those New to the UK

---
Low credit score? what doe this mean in practice?
If, as a foreigner who is new to Britain, your credit score is low this doesn't in itself prohibit you from getting a mortgage - but it means the following:
It is likely that your application will need a bit more explanation - which is why it can be a good idea to use a service such us ours where discussions between brokers and underwriters are commonplace.

It may mean you have to have a larger deposit - so instead of borrowing 90% of the property value you might be limited to a loan of 75%, leaving you to find 25% of the property value
Can I apply for a new to UK mortgage today?
We would highly recommend that you apply using the 'Start here' button above - it is designed to ask the right questions for those new to the UK and within a few seconds we can identify whether or not you are likely to qualify for a mortgage. If you do then we will involve a mortgage broker who specialises in your type of mortgage and ask them to get in touch with you.
Are any fees involved if I apply?
No fees are chargeable unless a suitable mortgage is obtained for you - so making enquiries costs nothing.
If you do decide to process the application a fee of up to a maximum of £495 could be charged - dependent of the size of the mortgage you are looking for and the amount of work involved in preparing your application. Whatever happens this fee will be discussed fully with you before any application proceeds so you will be fully aware of all charges up front. The fee is not charged until your mortgage is paid you to and you become the owners of your new UK home.
Our new to the UK mortgage service is provided by UK Financial Consultancy Services Limited, 142-143 Parrock Street, Gravesend, Kent, DA12 1EY who are authorised and regulated by the Financial Conduct Authority. Their FCA number is 435495.
We will introduce you to a specialised member of the team who has deep expertise in finding mortgages for new UK residents.
You also have the added reassurance of a MoneyMaxim consultant on hand in case of any queries or if additional guidance is needed.
This content was last reviewed on 02/03/2022