Sally Wilson
Sally is a key member of the MoneyMaxim editorial team. She is a frequent hire-car user and often goes on holiday with her family. With an interest in getting great value for money, Sally shares her hints and tips for travelling and insurance.
7 October 2015
With October being breast cancer awareness month we have top tips for those wanting to travel.
Breast Cancer doesn't stop the quest for travel. We can help those requiring pre-existing medical conditions travel insurance for a trip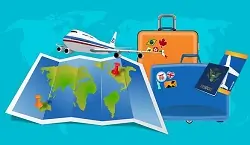 October is Breast Cancer Awareness Month and many crazy folk around the country will be dressing up, organising events or taking on a challenge to raise much needed funds for research into breast cancer. You could do your bit too. Perhaps you and your colleagues could organise a office sponsored silence? Or have a playground cake sale at your childrens' school?
About 55,000 people are diagnosed with breast cancer in the UK every month. Women and men. As with many cancers early detection is vital so it is important to know the facts and the signs and symptoms to look out for. If you have any concerns then you should contact your GP.
Breast cancer is one of many medical conditions which, if you need travel insurance you will need to declare. Many find it all a bit much to have to declare the same conditions to a number of insurers so we find the service offered by a couple of brokers, Just Travel Insurance (0800 542 7166) and Travel Insurance 4 Medical (01392 287 419) excellent. They will both take your details once and then consider a number of policies - saving you a lot of hassle.
Travelling without insurance or not declaring an existing medical condition (even a condition from your past) is a risky idea. If you are taken ill on holiday your insurer can ask for a report from your doctor. If it is found that there is a link to any undeclared previous conditions you could find yourself with a hefty bill.
Many diagnosed with breast cancer still want to travel - whether for work, to visit relatives or to have a break during or post treatment. However this can pose challenges when it comes to finding travel insurance that will provide comprehensive cover.
The good news is that we have access to several leading travel insurance companies who specialise in providing travel insurance for those with pre-existing medical conditions and at an affordable price. So if your partner has had a stroke in the past or you have a child who has been diagnosed with diabetes you can still enjoy spending time with your loved ones. We can help you find the right travel insurance to cover your trip - whether its an enforced business conference in Paris or the holiday away from it all that you really deserve.
So join us in supporting Breast Cancer Awareness month this October and make a difference to someone's life. Don't forget to wear pink!