Sally Wilson
Sally is a key member of the MoneyMaxim editorial team. She is a frequent hire-car user and often goes on holiday with her family. With an interest in getting great value for money, Sally shares her hints and tips for travelling and insurance.
5 June 2019
Introducing Our New Enhanced Car Hire Excess Comparison Service
Thanks to customer feedback, we have made finding the right excess insurance even easier!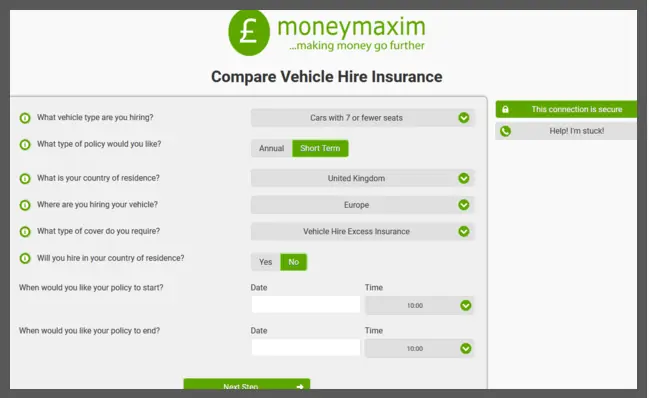 MoneyMaxim is already the UK's leading car hire excess insurance comparison website but we don't want to stop there!
We have just launched an upgraded version of our car hire excess service which makes finding the right insurance for you at the best price even simpler. With more features and explanations, you can design your insurance round your needs. New features to compare include administration fee cover and whether the policy will cover business use.
Thanks to all the feedback from our customers we have been able to make improvements to give a smoother and easier experience for those who want to make sure they have the right vehicle hire insurance in place for their trip.
Why have MoneyMaxim upgraded their service?
"Over the past few years, car hire excess insurers have been adding new features and benefits to their policies. As a result we have made our website even more comprehensive so that customers can really understand the differences between policies and exactly what they are paying for and what they are covered for." explains Moneymaxim's Managing Director, Mark Bower.
As well as giving customers a greater understanding of what they are purchasing, MoneyMaxim also offers huge savings on car hire excess insurance. By buying through our comparison service you could save up to 40% on policies!
By answering just a few questions we can provide you with quotes from a number of companies that offer cover suitable for your trip. You can see at a glance how much the policies cost and the basic features. For more comprehensive information on each policy there is a 'Details' button.
Comparing car hire excess insurance policies is easy!
Select up to 3 policies at a time and view them side by side to get a clear comparison of their features and levels of cover. We also display the review scores for each so that new customers can gain from the experience of those who have purchased policies before. This can be really handy if you want to know what the insurance provider is like when it comes to claims.
Hiring a car in Iceland? You can now ensure your policy reimburses you for Volcanic Ash Damage. Our optional filters also mean you can find car hire excess insurance that includes cover for Interior Damage or Loss of Use. Courtesy car and car club drivers can also use the filters to find policies which will insure them for the excess they are responsible for.
If you have any issues when running your quote, we are still here on the telephones or via the webchat service to help. Call us on 0118 321 8197.