Sally Wilson
Sally is a key member of the MoneyMaxim editorial team. She is a frequent hire-car user and often goes on holiday with her family. With an interest in getting great value for money, Sally shares her hints and tips for travelling and insurance.
14 September 2016
Have you thought of rail as your way to the slopes?
Eurostar offer extra ski trains for February half term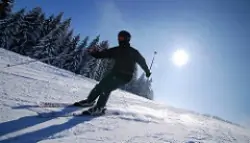 Not many people may have considered reaching their ski resort by rail but many skiing locations have good connections and choosing rails over wings can actually save you money. Due to the high demand Eurostar is adding four more ski trains to its service to Bourg-St-Maurice for February half term in 2017.
The additional trains run outbound on Saturday 11th and 18th February and back to St Pancras on Sunday 18th and 25th February. These trains are overnight which means that you can get out on to the slopes as soon as you arrive and you can ski right up until you need to board the train to come home.
No need to worry about paying extra for taking the skis when you travel with Eurostar on these ski trains. Anyone using the Bourg-St-Maurice service may take one pair of skis or one snowboard with them in addition to the standard luggage allowance. This allowance is 2 pieces of luggage plus one item of hand luggage per adult.
The overnight service does not offer beds - the seats however do recline a little - but Eurostar, however, provide a blanket and an eyemask to each passenger. It is a good idea to take something to rest your head on, either a small pillow or a rolled up jacket would work. You may also find earplugs beneficial if you are a light sleeper.
On board the upgraded trains there are power sockets at each seat (these may not be accessible for all seats on older trains) and free wifi throughout. Standard Premier seats all have tables, USB sockets and these passengers are provided with a light meal. You are welcome to take your own items of food and drink on the train and refreshments are also available at the bar and buffet.
Return tickets from St Pancras to Bourg-St-Maurice start from £309* for an adult whereas the lowest price for a direct flight between Heathrow and Geneva starts at around £416*. On an aircraft, skis and snowboards will often count as part of your free checked in allowance so could cost you extra if you need to take your full quota of bags.
If flying into one of the airports, you would need to consider car hire to take you to your resort which is an extra cost. However by using our car hire excess comparison service you can save money on the insurance extras you may be offered at the car hire desk at your destination airport.
Taking the train could be a great option for those who aren't comfortable flyers and there are no restrictions on getting up to stretch your legs. Also unlike flying the views out the window are not restricted to mostly sky!
Whichever way you decide to travel on your skiing holiday don't forget to ensure you have adequate travel insurance to cover winter sports.
prices correct as at 14/09/16