Sally Wilson
Sally is a key member of the MoneyMaxim editorial team. She is a frequent hire-car user and often goes on holiday with her family. With an interest in getting great value for money, Sally shares her hints and tips for travelling and insurance.
9 November 2016
New phone on your Christmas List? Don't forget Gadget Insurance too!
Make the most of your new phone on holiday with our top ten favourite travel apps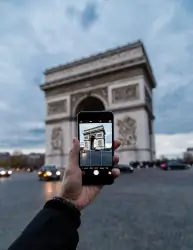 Wherever we go on our travels, we all want to find the most interesting places to visit, the tastiest restaurants and the best way of getting around. This used to be the purpose of guidebooks but not many people want to carry a heavy book around with them especially as all the information is available via the internet.
Taking your phone with you on holiday is much lighter and gives you access to a wealth of information. If you are taking yours, we can provide you with a Gadget Insurance Quote so that, should you lose or damage your phone, you will not be left with a large bill to replace it.
There are plenty of travel focussed apps that are widely known but many others are less so - especially those that offer a more unusual service. We have searched to find our top ten favourite travel apps that you can install on your phone to help you have a great holiday at the touch of a few buttons!
1. Livetrekker - Create a unique journal of your holiday so you never forget it. Put your holiday photos or videos in context by inserting them into a map of your journey to truly capture the moment. This free app allows you to share your travel experience online or view others from the Livetrekker community.
2. Foursquare - Looking for somewhere to eat, visit, shop or spend the evening? This app can provide the answers for free. Just enter what you are looking for and your area, and Foursquare will show you all the options available for you. Don't waste precious holiday time searching.
3. Touchnote - This app is the modern answer to postcards only so much easier. Upload your own photo and the destination address and the lovely people at Touchnote will send it as a postcard for you. Photos of yourselves at a famous location are so much more personal. The app is free but postcards cost from £1.99.
4. Detour - Walking tours can be a great way of getting to know a new city. Detour is a free app that provides audiotours from £3.99. Listen as you walk to really soak up the atmosphere. Destinations are limited although they are always introducing new ones. London, Paris and Barcelona are among the cities already available.
5. Family Locator by Life 360 - Holidays can become a juggling act when you take teenagers. They want their independence but they are often in an unfamiliar city and may not be able to speak the local language. This free app enables you to track members of the group, receive notifications when members have reached a destination and communicate to the whole group.
6. Kompl - If you like gaming you will enjoy this free app although unfortunately it is currently only available on iphones. The app steers intrepid travellers towards a point of interest by using just a compass - no map. The gaming aspect was only released on November 4th. Watch out for the joker as you hunt for treasure!
7. Museums of the World - Despite the title, this free app also includes other exhibitions such as art galleries and events. There is even space to write a review to help future visitors. If you like a spot of culture while you are on holiday then add this app to your phone.
8. Untappd / Pivo - We've actually sneaked two apps in here as they fit together so nicely. Untappd is a must for those who like to sample the local brew. Find out for free where the nearest bars are and read reviews of the region's beers so you will know what to try and what to leave well alone. Pivo (only available on iphones sorry) can show you how to order a beer in 59 different languages.
9. Flush Toilet Finder - Now just in case you indulge in too much of the local drinks this free app may come in extremely handy. It has a worldwide database of public toilets. Bizarrely, you can even search for those with internet connection!
10. Wiffinity - Using your phone abroad can cost you a lot of money in data roaming charges so it is very useful to find free wifi spots and this app can do just that. The interactive map will show you where the nearest wifi spots are in your area.
Whilst extremely useful, many of these apps can run down your battery life very quickly. Take a charger with you and if possible a power bank so you can recharge on the go.
Take extra precautions when you are taking valuables on holiday. Do not leave bags unattended or phones lying in clear view. Not all travel insurance policies will cover phones or other gadgets if they are taken out of the accommodation. Gadget Insurance quotes are available through MoneyMaxim to help you enjoy a relaxing holiday.