Sally Wilson
Sally is a key member of the MoneyMaxim editorial team. She is a frequent hire-car user and often goes on holiday with her family. With an interest in getting great value for money, Sally shares her hints and tips for travelling and insurance.
27 March 2018
Visit New Zealand - The Land of the Long White Cloud
Journey through New Zealand with your hire car and you can be sure of a warm welcome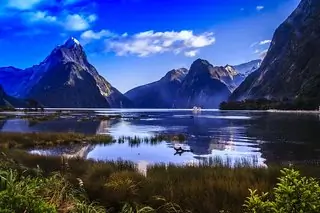 The Maori name for New Zealand is Aotearoa which is usually translated as 'Land of the Long White Cloud'. Other interpretations include 'Land of the Long Bright Day'. Auckland certainly has over 30 per cent more hours of sunshine per year than London. The great climate in New Zealand is just one of the reasons for putting this dynamic country high on your list of places to visit.
New Zealand is made up of hundreds of islands but North and South islands are the biggest two. A greater number of people live on the North Island but as the population of the whole country is about half that of Greater London it can hardly be described as crowded! Travel with a hire car in New Zealand to experience the diverse landscape of both of these islands.
There is so much to do, even in the area surrounding Auckland on the North Island. So if you fly into the airport there, don't be in too much of a hurry to leave the area. You will be spoilt for choice when it comes to beaches. Muriwai beach has awesome sunsets and is popular with surfers. If you are on the look out for dolphins then Takapuna beach would be a good choice. The city itself is vibrant with art galleries, markets and fabulous restaurants.
Travel north of Auckland and discover the mesmerizing Whangarei Falls. Further north still is the Bay of Islands, a real adventure for sealife fans. Go diving and explore the captivating world underwater. Visit the town of Russel, the first permanent European settlement in New Zealand. Quaint old buildings house some wonderful cafes.
To the south east of Auckland is the Coromandel. As well as being a forest park, there are also some magical beaches. Cathedral Cove with its white sandy beaches even comes complete with its own freshwater shower! At the southern end of the Coromandel is Karangahake Gorge. Follow the history of the mines using the bridges and tunnels and find yourself at the stunning Owharoa Falls.
Don't miss Te Whakarewarewa near Rotorua. This is a geothermal area which is also home to the Maori Living Thermal Village. See cultural performances and enjoy a traditional Maori meal. The Waitomo Glowworm caves are very appealing to families. During a boat ride through the caves the lights from the glow worms look like a starry sky on the roof of the caverns.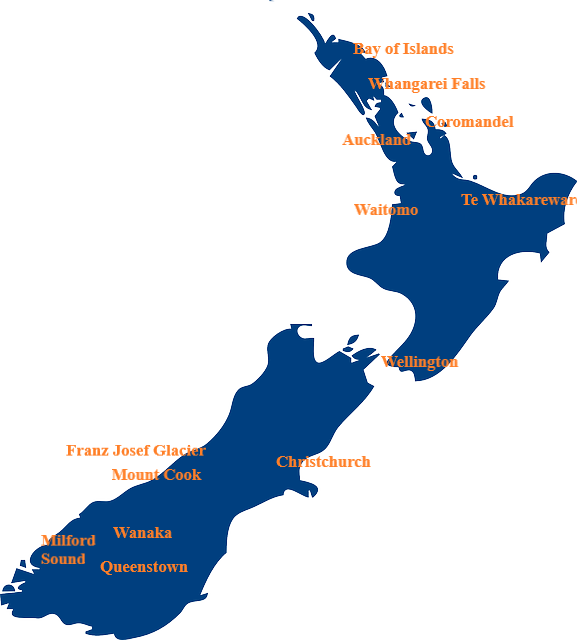 From Wellington you can catch a ferry to the South Island - do speak to your hire car company before taking a rental car on a ferry. It is well worth stopping off in Christchurch. This beautiful city has been devastated by earthquakes but has come back stronger with many new buildings showing Christchurch at its best. Hitch a ride in the gondola up Mount Cavendish for some spectacular views.
The drive to Mount Cook is gorgeous and the scenery there will take your breath away. If you don't fancy a long hike then you can park up and walk to Tasman Lake for some wonderful views of the mountain. If you do like a hike then how about a glacier? Franz Josef Glacier can offer guided hikes to suit all levels.
Those who are up for a challenge may consider Roys Peak. This hike is not for the feint-hearted but those who manage it will be rewarded with amazing views over the valleys. In nearby Wanaka there are walking and bike trails and even skiing in season.
Queenstown is considered the adventure capital of New Zealand so, if you have not had enough by the time you get there, then there is always jet boating, skydiving or bungee jumping. Lastly, no trip to New Zealand would be complete without a visit to the iconic Milford Sound. The epic landscape with its fjords, cliffs and waterfalls is a picture that will stay with you forever.
Car hire in New Zealand is available through MoneyMaxim. Whether you require a smaller car or something to suit a larger family, we are here to help.