Sally Wilson
Sally is a key member of the MoneyMaxim editorial team. She is a frequent hire-car user and often goes on holiday with her family. With an interest in getting great value for money, Sally shares her hints and tips for travelling and insurance.
29 September 2015
American Football arrives at Wembley as the NFL comes to London
Will the taste of America in the UK tempt you to a holiday in the States?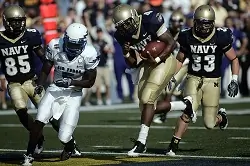 International NFL arrives in London this October with the first of three matchups on the 4th October between the New York Jets and the Miami Dolphins. All three matchups will take place at Wembley stadium. The other two take place on the 25th October and the 1st November.
If you are not able to get tickets or want to make the most of the NFL's visit, there are two other events taking place in London. Both have free admission.
On the 3rd October there is a Fan Rally in Trafalgar Square. From 12 noon until 4pm there will be appearances from NFL players, legends and cheerleaders. There will be food, drink and NFL merchandise on sale too.
Saturday 24th October the flags will be up for the 'NFL on Regent Street' event. Regent Street will be pedestrianized between Piccadilly Circus and Oxford Circus to allow for Marching Bands, Cheerleading shows, interactive games and much much more. Players and NFL legends will be there to join in the celebrations.
If you enjoy yourself at one of the games here in London, you may be considering taking a trip to the States to see another played in one of the home grounds. The NFL season is in full swing in the US and peaks on February 7th 2016 with Superbowl 50. This huge event will take place at the San Francisco 49ers' home in California.
A holiday in the USA is always an amazing experience but to get the most of your time there, you will almost certainly need to hire a car. Hiring a car in the States can be a very straightforward exercise, however, do check your hire insurance carefully. If you hire a car within the US or through an American company, parts of the insurance may not come as standard. This can include Collision Damage Waiver (CDW) and Supplementary Liability Insurance (SLI). Check our useful guide to car hire insurance in the USA which will help you find the correct insurance and hopefully answer any questions you may have.
We are also on hand to take your calls, or any queries via our online chat service. Also don't forget to take out adequate travel insurance. It can easily be forgotten in the excitement of holiday plans.
So let's hope the matchups here in London prove as exciting as last season's Superbowl 49 when the New England Patriots came from behind to beat the Seattle Seahawks and claim their fourth Superbowl win!