Sally Wilson
Sally is a key member of the MoneyMaxim editorial team. She is a frequent hire-car user and often goes on holiday with her family. With an interest in getting great value for money, Sally shares her hints and tips for travelling and insurance.
20 January 2016
Romance goes further on a hire car road trip
Five romantic destinations for you and your loved one to explore with a hire car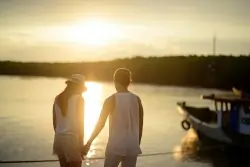 Are you thinking of spoiling your loved one for Valentine's Day? Perhaps you are just considering a well-deserved weekend away? It needn't cost the earth to explore some of the most romantic destinations. And booking your car hire through MoneyMaxim can help you find a good deal. In addition our car hire excess insurance costs from just £1.90 a day - well below what you might pay at the car hire desk.
Most people will have considered Paris, Venice or perhaps Prague for a cosy weekend away with their favourite person but we thought we'd highlight some less obvious destinations.
Fez, Morocco
This 1200 year old city is steeped in an amazing history. It is the cultural capital of Morocco with its medieval architecture.The Fès el-Bali medina is a focal point of Fez. It has alleyways teeming with stalls selling local crafts and food, the scent of which makes your mouth water. The plentiful supply of new hotels sit side by side with ancient mosques and minarets - the old world and the new.
You can hire a car from Fes - Saïss airport (15k from the city) from around £45 for 3 days. Your hire car can then take you to the city of Meknès less than an hour away. Meknès is one of the four imperial cities, a more relaxed city situated amongst farms growing grapes, olives and citrus fruits. If you are happy to consider a longer drive, Chefchaouen - 4 and 1/2 hours away is well worth a visit. This mountain village is renowned for its distinctive blue buildings.
Heidelberg, Germany
Situated in the south west of Germany, Heidelberg is a picturesque city with its own stunning renaissance castle perched on top of a hill overlooking the old town. This is Germany's oldest university town, once home to the poet Goethe. The pretty town has many shops to browse after a trip to the castle.
Heidelberg is surrounded by forests and is situated on the Neckar river giving it an almost fairytale setting. You can hire a car from Frankfurt airport less than an hour away from around £45 for 3 days. Take a drive along the Neckar river following the 'Burgenstrasse' to take in more castles. Alternatively the beautiful spa town of Baden Baden is less than an hour's drive away. Indulge in a trip to the thermal baths!
Taormina, Sicily, Italy
Taormina's unique position nestled high up on a mountain means it has dazzling views over the Ionian Sea. Despite its popularity with tourists, Taormina has managed to stay stunningly chic. Popular with writers and artists it also has an array of designer shops to tempt you.
Hire a car on your arrival at Catania airport and it can cost you from as little as £26 for 3 days. A day trip to visit the impressive Mount Etna is a must. You can take the cable car up and then either take a jeep or choose to trek. It can be a very exciting adventure but if you aren't keen on going up in the cable car, you can still visit the craters lower down.
Edinburgh, Scotland
Edinburgh may not be everyone's first choice as a romantic destination but this historic city has so much to offer. Within the city there is the castle along with the striking St Giles Cathedral. Take a stroll together up to Arthur's Seat in Holyrood park and soak in the view of this gorgeous city.
If you choose to fly to Edinburgh - there is always the option of the train for those who don't like flying - you can hire a car from the airport from around £42 for 3 days. Take a drive to Stirling where you can visit the town's own castle. Once upon a time it was the capital of Scotland, known as the 'gateway to the highlands'. A bit further on from Stirling is the wonderful Loch Lomond where you can enjoy the stunning scenery and wildlife of this part of Scotland.
Seville, Spain
Seville can almost guarantee you warmer weather than here in the UK. It is a city of mixed histories. There are Roman ruins alongside remnants of its Moorish past. If stories are to be believed, Seville was actually founded 3000 years ago by the Greek god Hercules! Whatever its history, Seville has culture, sights and spectacular food to offer.
A car can be hired from San Pablo airport from an incredible £5 for 3 days. Drive to Cordoba less than 2 hours away. The narrow streets of Cordoba will take you through the different quarters of the city. Stop to visit the lively bars and restaurants and sample the local cuisine. The market stalls sell colourful bric-a-brac and local handmade crafts.
Hire car rates are based on renting a compact car from the given airport from 12th-15th February 2016 using the MoneyMaxim Car Hire comparison service.
Image courtesy of: Pixabay