Sally Wilson
Sally is a key member of the MoneyMaxim editorial team. She is a frequent hire-car user and often goes on holiday with her family. With an interest in getting great value for money, Sally shares her hints and tips for travelling and insurance.
2 February 2016
It's fiesta time! With car hire you can explore all that Spain has to offer
Whether it's castles, beaches or festivals - Car hire in Spain can get you there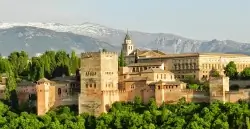 Spain has always been a popular tourist destination but, with political unrest and tensions growing in some other countries, ABTA has noticed 'a shift towards tried and tested destinations' with Spain in particular 'set for a bumper year' in 2016.
Even if you have been on a Spanish holiday before there is still so much more to see and we can help you explore this beautiful country with car hire and car hire excess insurance.
Spain was the third most popular holiday destination in the world last year with 68.1 million visitors and it is not surprising. There are so many stunning aspects to enjoy.
Cities
The bigger cities can offer you so much, from good restaurants and nightlife to history and culture and not forgetting the shopping! Many of the cities are within an easy drive of an airport too which could be perfect if you were just planning on a short break.
There is the capital, Madrid, with its magnificent architecture. Go for a romantic stroll through the Las Ramblas district in Barcelona where you can see artists, flower stalls, monuments and live performances. The City of Arts and Sciences is the most popular attraction in Valencia. It houses the stunning Aquarium as well as the planetarium, science museum, botanical gardens and the grand opera house.
History and Culture
If you want to experience the Spanish culture away from the bustle of the larger metropolitan areas the opportunities are countless. Cordoba is a very attractive city which often gets overlooked. It was formerly the Moorish capital of Spain and its old Jewish Quarter has been unspoilt by the passage of time.
The fortified city of Tarragona boasts Roman remains alongside a medieval history. Its gorgeous setting is not far from Barcelona if you wanted to take in both cities. Granada is always popular because of the splendid Alhambra palace. If you are contemplating this impressive fortress, don't forget to book your tickets in advance. You can purchase them online or, if you are in Spain, at any La Caixa Bank ATM.
The Coastline
Many people visit Spain just for its fantastic array of beach resorts. There are lots of well-known holiday spots such as Benidorm and Marbella. The resorts of Magaluf and Ibiza may be considered as the haunts of younger holidaymakers but both locations are working hard to appeal to families.
If you are looking for somewhere different, try Sitges not far from Barcelona It is a slightly smaller resort which is often less crowded. Formentera with its bright white beaches is probably the quietest of the Balearic archipelago and is great for families. The region of Huelva on the Costa de la Luz can offer the largest concentration of beaches in Spain.
Fiestas
Spain is renowned for its festivals. The Fiesta de San Fermin (the Running of the Bulls) in Pamplona is world famous. If it is a little too dangerous for your liking, there is always La Tomatina in Buñol at the end of August. But take your goggles as it involves throwing tomatoes!
The Festes de Sant Joan takes place in Menorca in June amid displays of fireworks, music and dancing. One of the most spectacular festivals occurs in Valencia every March. Over five days of the Fallas Fiesta, hundreds of beautifully made statues are burned to the ground.
There are truly so many sights to see. Spain is a spectacular country with a wealth of historical, cultural and natural wonders. You may be considering taking a tour to be able to see as much as possible. If so, consider adding a satnav when hiring a car.
An intermediate sized car could cost as little as £33 for the week 17th - 24th June from Barcelona Airport. Car hire excess insurance can cost from as little as £2 per day using our comparison service.
More information and advice about travelling in Spain can be found through the Foreign Office.
Image courtesy of: Pixabay