Sally Wilson
Sally is a key member of the MoneyMaxim editorial team. She is a frequent hire-car user and often goes on holiday with her family. With an interest in getting great value for money, Sally shares her hints and tips for travelling and insurance.
7 October 2015
Weather disasters reinforce need for travel & car hire insurance.
Look after yourself and your loved ones with travel insurance. Protect your hire car with excess insurance.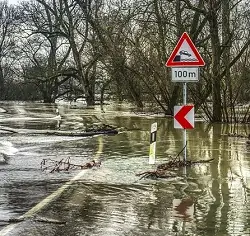 This weekend we read the sad news that 19 people including one Briton have died as a result of the flooding in Nice and the surrounding area in the south of France. Many of us travel to France for our holidays so this tragic event comes as quite a shock.
Storms brought an estimated 10% of the area's annual rainfall in just two days. So much rain caused the rivers to burst their banks and the water forced its way in torrents through the city streets flooding homes, shops, railway stations and underground car parks. There was destruction left behind with pictures in the news of cars piled up in the street.
Across the world there has also been a typhoon in China. Mujigae caused several deaths and hundreds of injuries as it swept across China, Taiwan and the Philippines including many tourist areas. It has affected power and water supplies. Hurricane Joaquin brought a record 14 inches of rainfall in the Carolinas in the USA. Barack Obama has signed a disaster declaration after 11 people sadly lost their lives in the region. Sometimes damage to property is as the result of a natural disaster and there is nothing that can be done to prevent it.
If you are caught up in such an incident your number one priority is to you and your loved ones. And having adequate insurance is one way you can make sure you do not feel the need to place yourself in danger to protect say your rental car just because you are responsible for a large excess on the vehicle.
Should you be in a situation where your hire car is damaged as a result of the weather, having car hire excess insurance will mean you can claim back any excess you would normally have to pay under your standard car hire agreement. Our car hire excess insurance comparison service can help you find a level of cover to suit you.
If there is flooding or severe weather where you are staying with your hire car, do not put yourself in danger to protect the car. Follow any advice given to you on the radio or by local experts. If your hire car is damaged, contact your hire car company to report the damage. If you need a replacement car, bear in mind that they may not be able to provide exactly the same model and that it might take a little time to sort out.
Before you go on holiday make sure you have adequate travel insurance. Most standard policies will provide cover for disasters caused by weather. Our travel insurance policies can be compared to find a quote at a price to suit you. As can be seen from recent events its important to have cover wherever you are in the world and not just in those prone to poor weather conditions.