Sally Wilson
Sally is a key member of the MoneyMaxim editorial team. She is a frequent hire-car user and often goes on holiday with her family. With an interest in getting great value for money, Sally shares her hints and tips for travelling and insurance.
31 May 2017
Will your travel insurance cover you if you take your laptop on a plane?
New rules regarding hand luggage may mean your valuables are not covered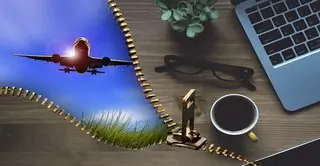 Many people will have heard in the news lately about the restrictions on taking tablets and laptops in your hand luggage when you board a flight. These were imposed as an additional security measure on flights to six listed countries. As a result of the new rules these devices would need to be inside your checked in luggage should you wish to take them away with you. With many travel insurance policies not covering valuables in the hold, that leaves holidaymakers with a problem.
It is possible that some travel insurance policies may change as a result of these bans, particularly if they are extended to include more flights, but in the meantime be aware that if your laptop is broken or stolen after it has been checked in, then you may not be covered - even if you have paid extra for extended gadget cover.
One idea to consider is that your valuables may be covered under your personal possessions or 'goods away from home' part of your home contents insurance. Some do not specifically exclude items if they are in the hold of an aircraft though some may not cover items if they are 'not in your care' so read your policy carefully. And, of course, any claim on your home insurance will most likely affect your future premiums.
The first ban introduced by the US and the UK only affected direct flights to Turkey, Lebanon, Jordan, Egypt, Tunisia and Saudi Arabia. The US have added more destinations to their list including Dubai. As this is a popular business route from America, it is proving very difficult for travellers. Faced with no alternative, their equipment has to be checked in with the rest of their luggage so they are unable to continue working on the long flight.
For UK travellers, gadgets can still be taken as hand luggage if they measure less than 16cm x 9.3cm x 1.5cm, so most smartphones are fine. The US ban also prohibits e-readers, cameras and some handheld games consoles which could prove a nightmare for parents! And be aware that any portable charging devices for your smartphone which are not smaller than these dimensions will also not be allowed in the cabin, even if you purchased it at the airport.
There is talk of these limits being introduced to flights between the US and the UK. France and Canada are also contemplating an equivalent ruling on their flights. If you are worried about what you are allowed to take please follow government advice and check with your airline. If at all possible, leave items at home and reduce your risk.