Sally Wilson
Sally is a key member of the MoneyMaxim editorial team. She is a frequent hire-car user and often goes on holiday with her family. With an interest in getting great value for money, Sally shares her hints and tips for travelling and insurance.
4 October 2016
See how your money goes further when you save on your car hire
The Post Office Long Haul Report for 2016 shows the better value holiday destinations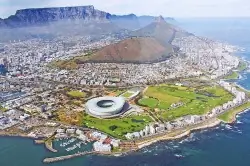 The 2016 Post Office Long Haul report was published last month revealing some interesting results. For the first time, according to the report, Cape Town is the most affordable long distance destination surpassing Bali which had been at the top of the table for the last three years. Of the 34 countries surveyed Dubai was the most expensive.
The Long Haul report looks at the prices that consumers may have to pay for selected items whilst on holiday. These range from insect repellent to a 3 course evening meal with a bottle of wine. Of course there are many others factors which may influence your choice of holiday resort including car hire. We have had a look at the top ten destinations on the report to see what they offer.
Car hire prices are as at 28th September 2016 and are based on an Intermediate sized car from the nearest international airport for the week 1st-8th April 2017.
1. Capetown This stunning South African city sits on the shores of the South Atlantic Ocean. Your own transport will enable you to not only take in the local attractions such as the Kirstenbosch Botanical Gardens at the base of Table Mountain but also to explore further afield in this vast country. Mossel Bay on the Garden route of South Africa is only a 4 hour drive. Car hire in Capetown starts at £135.62
2. Bali The beautiful island of Bali has a wealth of natural features and temples to discover. Use your hire car to take you to visit the spring pools at Tirtagangga or the mountains of Bedugal. You can stop off at Ubud village, a centre for crafts and dance. Bali car hire is priced from £227.14.
3. Tokyo Tokyo has risen up the charts when it comes to the Long Haul report. It is not surprising that this city should be a popular destination as it has so much to offer. A car hire will enable you to escape the bustle and travel to the spectacular Mount Fuji just a two hour drive away. Lake Ashi is the same distance with Kamakura, Japan's first feudal capital, just an hour's journey time. Car hire for the week starts from £463.59.
4. Mombasa Mombasa is an exciting city to visit. Lying on the Indian Ocean coastline of Kenya there are other gorgeous beaches to visit including Malindi and Watamu about 2 and a half hours away by car. Your own transport will also give you the freedom to reach many of the wildlife sanctuaries and also Shimba Hills National Reserve less than two hour's driving distance. The cost of car hire begins at £512.00.
5. Colombo The capital of Sri Lanka has an ancient history of trading which makes it a fascinating city to discover. Fans of wildlife can use their hire car to meet the elephants at the Pinnawala orphanage. Further afield but still easily accessible by car are the Hunas Falls and the Knuckles mountain range. Car hire prices start at £226.46.
6. Cancun This lively Mexican resort offers marvellous beaches and an exciting nightlife but, if you want to take a break from the partying, then a car hire could be just the answer. The world heritage site of Chichen Itza is only just over two hours drive away as are the Coba ruins. Xcaret, the eco theme park, is even closer or take a drive to the docks at Puerto Juarez and catch a ferry to the Isla Mujeres. Prices for car hire are from £127.51.
7. Phuket Thousands of tourists flock to Phuket every year for its clear waters and exhilarating nightlife. Why not see more of this area of Thailand while you are there? Phang Nga Bay with its spectacular crystal green waters has unique limestone formations. James Bond Island in the bay featured in 'The Man with the Golden Gun'. Siam Safari, an elephant camp, is also a possible destination with a hire car priced from £125.45.
8. Lima You may not have considered Peru as a holiday location but you may change your mind if you take a look. It has something for everybody. From your base at Lima you can reach the seaside town of Pucusana, Caral - an ancient town thought to be about 5000 years old - and the religious site of Pachacamac. All with a car hire costing from £170.55.
9. Orlando Many have stayed in Orlando and hired a car in order to visit the theme parks close by but have you considered venturing in a different direction? To the east is Kennedy Space Center and to the north, St Augustine, thought to be the oldest city in the U.S.. Westwards there are numerous options including Homosassa Springs wildlife park, Crystal River to see manatees or Clearwater beach. Car rentals start at a very reasonable £140.38.
10. Grand Baie This pretty seaside village is in the Indian Ocean island of Mauritius. The island is packed full of wonderful sights. The stunning Chamarel waterfalls, the dormant volcano Trou aux Cerfs and the Black River Gorges. For something a bit different, you can also visit the rum factory at Chamarel. Car hire prices for the week are from £335.
Car hire excess insurances policies for worldwide travel start from around £2.50 per day.
Although the weaker pound has tended to make travel more expensive, many of the long haul resorts have seen their local prices reduced which goes a little way to offsetting this. We can offer further ideas on how to keep your costs down when you are hiring a car abroad.