Sally Wilson
Sally is a key member of the MoneyMaxim editorial team. She is a frequent hire-car user and often goes on holiday with her family. With an interest in getting great value for money, Sally shares her hints and tips for travelling and insurance.
23 November 2016
Short term car insurance can help you share the Christmas Cheer the Winter
Short term car insurance can help your Christmas visitors explore the UK independently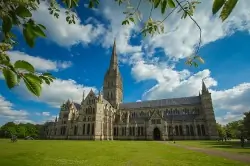 At Christmas time we welcome many visitors into our homes and not just Santa! It is lovely to see old friends and distant family again and to share in all the joys and celebrations of the festive season with them. Sometimes friends or family come from overseas and want to be able to get around independently. Lending them your own car may seem like a risky idea but with Short term car insurance it can be the perfect solution.
If your visitors are coming from far afield, Canada or Australia for example, they probably want to use the opportunity while they are here to see some of the wonderful sights the UK has to offer, or to drop in on other friends or relatives. Lending them a car also means that you can have a break from entertaining too! You may have tried contacting your own insurer to add them to your insurance policy - some companies will do this, others won't. The drawback to adding them to your own insurance is that, if they have an accident, it may well affect your premiums and your no claims bonus. Short term car insurance is a completely separate insurance policy.
There are plenty of Christmas events going on around the country. If you are looking for ideas, here are just a few suggestions.
Manchester Christmas market - one of the biggest in Europe, runs from 10th November until the 20th December

Kielder Winter Wonderland - a whole day experience perfect for younger children

Swanage Railway Santa Specials - start at the magnificent Corfe Castle and take this heritage steam railway down to the seaside

Salisbury Christmas Market - and take the chance while you are there to visit the very impressive Cathedral

Drusilla's Park, East Sussex - if you love animals, come and meet the reindeer or Hug a Husky

Lincoln Outdoor Ice Skating - The rink is right in the heart of Lincoln's shopping area and is open most days, including between Christmas and New Year
If your guests like to visit homes or gardens, both The National Trust and English Heritage offer passes for tourists. The Overseas Visitors pass from English Heritage costs just £57 for a family of up to 6 people for 9 days. The Touring Pass with The National Trust costs £53 (for a family of two adults and any number of children under 18) for 7 days.
Borrowing a friend's car means that a visitor doesn't have to worry about availability of hire cars nor pick up locations. Invariably, with Short Term Car Insurance it is also a cheaper option. Prices for hire cars tend to rise in peak seasons and there are fewer - especially of the larger 7 seater models - available.
Unfortunately we are unable to help residents of all countries with short term insurance. For those travelling from the US or India, for example, we would suggest car hire as an option.