Sally Wilson
Sally is a key member of the MoneyMaxim editorial team. She is a frequent hire-car user and often goes on holiday with her family. With an interest in getting great value for money, Sally shares her hints and tips for travelling and insurance.
19 April 2016
The Cost of Car hire Extras Adds up - How to Save Money on Child Car Seats
The Bubblebum car seat is portable, lightweight and now even cheaper!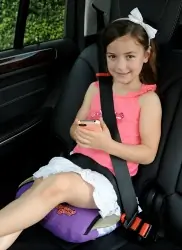 Are you hiring a car with your family this summer? Will you need a car seat? We are excited to be able to offer you a 20% discount on a Bubblebum travel car seat. A great way to save money and luggage space. This offer also applies to other products in the Bubblebum range. They are all about helping the whole family travel in comfort.
Many people would expect to add the cost of hiring a car seat to their car hire but, particularly with the fall in sterling, it can put a significant dent in your holiday budget. A week's hire of a car seat can cost around £60 - money that could be used on something far more enjoyable on your holiday!
The Bubblebum car seat is a lightweight, inflatable car seat that can be stored in your luggage or hand luggage while you are travelling. No more lugging a car seat through the airport terminal if you usually take your own with you. It conforms to all EU and US safety standards and is suitable for ages 4-11 years so you can be reassured that the Bubblebum provides not only practicality but safety too.
Nothing can be more important than your child's welfare so please be aware of the rules for child car seats within the UK or any other country you are travelling. Car seat regulations are always being reviewed so please ensure that any car seat you use is appropriate for your child according to the current safety regulations.
In the UK children only have to stay in a car seat until they are 135cm tall so you may have given away your car seat believing that it was no longer needed. The rules in other countries, however, are not necessarily the same as here. In German and Austria children have to stay in a car seat until they reach a height of 150cm.
Other countries can be even more complicated. In France the rules are based on the weight of the child so it is worth checking your children before you go. In the US, the requirements for car seats differ in each state. The RAC provides guidance on driving regulations for individual countries if you are unsure which type of seat you need on your holiday.
So, if you discover that you need a car seat, the Bubblebum could be the solution you are looking for. It normally has a retail price of £29.99 but, with our special offer of 20% discount as well as free shipping, you can make a great saving.
Image courtesy of: Bubblebum