Sally Wilson
Sally is a key member of the MoneyMaxim editorial team. She is a frequent hire-car user and often goes on holiday with her family. With an interest in getting great value for money, Sally shares her hints and tips for travelling and insurance.
16 November 2016
Lapland Car Hire - Trip the Light Fantastic
Car hire in Finland could be the best way to see the Northern Lights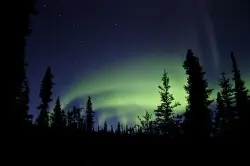 Lapland is not just the place to see Santa, it is also one of the most likely spots for visitors to catch a glimpse of the Northern Lights. A car hire in Lapland will give you an even greater opportunity to see this amazing spectacle.
The Northern Lights - or Aurora Borealis as they are otherwise known - are caused by charged particles from the sun entering the Earth's atmosphere. This fascinating display of lights across the sky is the most cited travel experience on bucket lists created across the world.
Advice from Northern Lights experts is that they are much more impressive away from towns and cities as there is less distraction from artificial light sources. Coastal areas, where there is often more cloud, are also not as good. It is suggested that visitors head inland to National Parks. In these areas there is very little accommodation and so a hire car is ideal.
Rovaniemi is the capital of Lapland. Skyscanner shows flights to Rovaniemi from London Gatwick for 9th-13th January starting at just £95 per person. An economy sized hire car such as a Ford Focus is £151.65 through Moneymaxim car hire for those dates, picking up at Rovaniemi airport. Car hire excess insurance starts at just £7.16.*
Inari in the north of Finland is a great location to observe the Aurora Borealis. They occur frequently and there is less light pollution to interfere with your enjoyment. Inari is about a 4 hour journey with your hire car from Rovaniemi airport.
Driving in Lapland is not difficult providing you take into consideration the road and weather conditions. The roads are very open and straight, with very little traffic - it is not as complicated as driving in an unfamiliar city! However, with sometimes only 5 hours of daylight in the winter and temperatures in the region of between -20c and -40c, it is important to be prepared.
There are some pieces of equipment which by law in Finland you should carry with you in the car. These are a warning triangle and reflective jackets for all occupants. Any pedestrians must wear something reflective during hours of darkness so do bear this in mind too. Winter tyres are compulsory between December and February so do check with your car hire firm that these will be fitted and which safety equipment will be provided with your car.
The AA guide explains the rules when it comes to driving in Finland including that you must use headlights or daytime running lights at all times. Speed limits on Finnish road are also often reduced during the winter months.
Be sure to wrap up warmly when you are travelling and, just in case of an emergency, take a blanket or extra layers with you. Know the number for the emergency services - deer or elk are quite common on the roads in Lapland and should you be involved in an incident with an animal you should contact the emergency services to let them know. It is a good idea to take a car charger or power bank for your mobile phone too.
Car hire excess insurance through MoneyMaxim can not only provide cover for the excess on your insurance with your hire car but it also covers some additional areas too. The windows, tyres, wheels, roof and underbody are parts of the car which are often not included within the CDW (Collision Damage Waiver) - yet in a rural location and on unfamiliar roads they are common points for damage to occur. All of the excess reimbursement policies via MoneyMaxim include cover for these areas.
An additional thought - if you are thinking of taking part in any traditional winter activities - check that your travel insurance has the right level of cover. It is not just about skiing and snowboarding, sometimes even tobogganing is not included as standard - you may have to choose a Winter Sports option on your policy.
Prices based on searches made on 16th November 2016 for trip dates 9th-13th January 2017.