Sally Wilson
Sally is a key member of the MoneyMaxim editorial team. She is a frequent hire-car user and often goes on holiday with her family. With an interest in getting great value for money, Sally shares her hints and tips for travelling and insurance.
16 February 2016
Classic Car Insurance - We will point you in the right direction
The London Classic Car Show - Take in the Grand Parade of vintage vehicles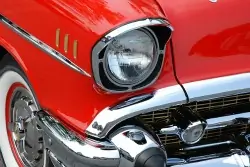 The London Classic Car Show opens on Thursday 18th February at ExCel London and runs until Sunday 21st February. It is the perfect opportunity to view some of the most splendid cars in the world - from the 242mph McLaren F1 to the Group B rally cars of the 1980s - from Aston Martins to Citroens. If you own, or are looking to buy, a classic car specialist classic car insurance could be what you need.
At the mention of a classic car, some people will be thinking of cars that are around 20 years or more but, in fact, cars as young as 5 years old can be considered classics! Classic car insurance can frequently work out cheaper than standard car insurance, particularly for younger drivers, but do be aware that there are often limitations such as restricted mileage.
Buying insurance for your classic car through a specialist insurer has several advantages as there are options that can be included which are specific to your needs.
Laid up policies - Should your car not be on the road you may only need to insure it for fire, theft or mishaps while it is being stored or worked on

Wedding hire - If you hire your car out for someone's special day

Track day/Rally cover - For those looking to take part in events

Owners' club membership - Discounts are available for members

Limited mileage discounts - Often your classic car will not cover as many miles as a standard car

Modification discounts - Sometimes improvements to your car may be seen as benefits to your safety

Agreed value - Specialist insurers will take into account the true value of your car based on its pedigree and condition not just the market value

Salvage retention - You are more likely to find policies where you can buy the car back if it is written off
Classic car insurance is often cheaper as usually it is not your only car. If you are driving another car for the majority of time, there is less risk to the classic car and therefore premiums for it may be lower.
Always keep your insurer updated with any work in progress as it may affect your insurance and it is a good idea to invest in steering locks or immobilisers as using them when your car is stored can reduce the cost of your insurance. Remember to declare if your car is off the road with a Statutory Off Road Notification (SORN).
The London Classic Car Show is going to be twice the size of last year. HIghlights include the Grand Avenue where some of the stunning cars will be paraded. Sir Stirling Moss will feature in Speakers' Corner alongside other notable figures in the classic car industry. There will also be a fun Six Nations contest to decide which is the top car-producing country.
So whether your interest is in classic cars, pre-1930 vintage cars or veteran pre-WW1 cars it will be a great show. All these types of cars can be covered with specialist classic car insurance.
And if you are contemplating buying a classic car it is important to do your research. There will be plenty of exhibitors at the show such as Owners' Clubs who will be on hand to give advice.
Image courtesy of: Pixabay