Sally Wilson
Sally is a key member of the MoneyMaxim editorial team. She is a frequent hire-car user and often goes on holiday with her family. With an interest in getting great value for money, Sally shares her hints and tips for travelling and insurance.
23 June 2015
What you need to know about learner driver insurance this summer?
Planning to teach your child to drive this summer? Worrying about the cost?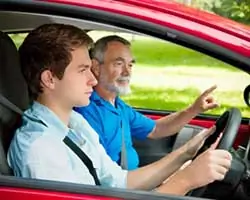 At Moneymaxim we can help with our Compare Learner Driver Insurance service.
With the end of exam season and the longer summer evenings it is the ideal time to start learning to drive. The cost of insurance can seem daunting on top of tuition fees and perhaps a new car.
If you are teaching your son or daughter to drive in your car you can generally find low cost short term learner driver insurance as long as the car you are teaching them in is not a sporty or prestige model. We have companies who will offer insurance on cars up to insurance group 35, or a value of £30,000. If the learner is looking to buy their own car though it's worthwhile considering factors that will help minimise their insurance costs in the longer term as well. Some worthwhile factors to take into account include:
Look for a car which is in one of the lower insurance groups (preferably Group 5 or under)
Keep your car secure. Fit an immobiliser (if the car doesn't already have one) and an alarm.
Keep the car stored off the road particularly at night.
Have a telematics or 'black' box fitted.
A telematics box records how well (or how badly!) you drive. It monitors the time of day you drive, your speed, braking and cornering. This is a good option if you are a confident driver as you can be rewarded with lower premiums if you drive responsibly. Beware though if you are sharing a car as the box will not differentiate between drivers. Telematics boxes are often fitted for free by your insurer but bear in mind they will often charge to have them removed or changed to another car.
You can decide to teach your child yourself or to use an approved driving instructor. Whoever accompanies them, however, must be a qualified driver over the age of 21 and have held a full licence for at least three years. Other requirements are:
The child must be 17 years*
They must have a provisional licence
They must be able to read a car number plate from 20 metres away (with glasses or contact lenses if necessary)
There must be 'L' plates clearly visible on the front and back of the car they are going to use.
Your child getting into the driving seat for the first time can be a nerve wracking experience. Hopefully with the Moneymaxim Compare Learner Driver Insurance service we can take some of the other worries away for you.
*You can drive a car when you are 16 if you get, or have applied for, the enhanced rate of the mobility component of Personal Independence Payment (PIP)– See Gov.uk – Provisional Licences.