Sally Wilson
Sally is a key member of the MoneyMaxim editorial team. She is a frequent hire-car user and often goes on holiday with her family. With an interest in getting great value for money, Sally shares her hints and tips for travelling and insurance.
21 February 2017
Spanish car hire offers open the door to a world of cultural discovery
Malaga, Granada and Seville - explore the southern cities of Spain with our hire car offers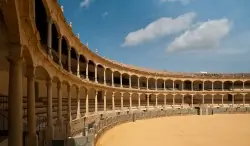 Spain has long been a popular holiday destination - with wonderful weather and stunning beaches the draw for many. But there is so much more to experience in this fabulous country. Add car hire in Southern Spain to your holiday and it opens up a wealth of cultural treasures to explore. Build your holiday around some of these amazing sights or take a day or two out from lying on the beach to discover the history of the local area.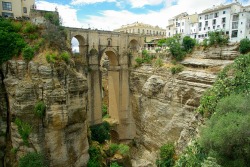 Ronda
Located about 100km from Malaga, Ronda is one of the most beautiful cities in the South of Spain. It is considered to be the home of bullfighting today with the Real Maestranza bullring a must-see for visitors. Built in 1785, the same architect also designed the Puente Nuevo, a bridge completed in 1794 which links the old Moorish part of the town with the more recent, El Mercadillo area of the city. The bridge looks over the El Tajo gorge, a breathtaking sight at any time of year but certainly dazzling in Spring when the depths of the valley are a carpet of flowers.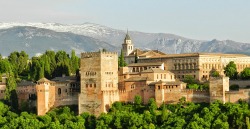 Granada
This city is world famous for the Alhambra palace, a perfect example of Moorish architecture at its best. Be enchanted by the intricate carvings of this impressive palace. If you want to visit book well in advance of your holiday as it can get very busy. If you miss out on Alhambra there is no cause for concern as Granada is full of hidden jewels. Capilla Real is the resting place of several generations of Spanish royalty. The Palacios Nazaries is another fine example of Islamic architecture some of which was built as early as the 14th century.
Malaga
Malaga is highly underestimated as a cultural destination but this city is slowly emerging as a location for art and history lovers alike. In 2015 an offshoot of the Pompidou centre in Paris was built in Malaga, housing many varied exhibitions. There are numerous museums including those dedicated to the artists Picasso and Thyssen, and the Russian State Museum. The Contemporary Art Museum has 400 works permanently on show with temporary exhibitions and workshps throughout the year. Del Paso are offering car hire from £1.70 per day in Malaga from 9th March 2017 for one week. This fantastic deal through our sister site Clarify Car Hire comes with a fair fuel policy.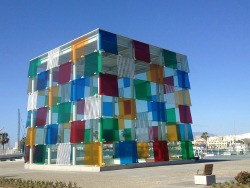 Antequera
Just to the North of Malaga, Antequera has escaped being part of the usual haunts for most tourists. For a town, it has an astonishing number of churches - over 30! Some of these are very ornate and worth a glimpse inside. As with many towns in the area, it has Roman, Moorish and Spanish influences making it a vivid melting pot of buildings. Just outside the town itself you can also discover examples of Europe's oldest burial chambers built with enormous slabs of rock known as dolmens.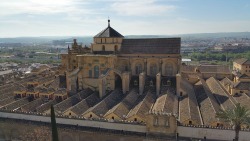 Cordoba
Cordoba was a major Roman city and in the Middle Ages it was a city with great importance in the Islamic world. Probably the most famous landmark in Cordoba is La Mezquita mosque which dates from around 784AD. Despite its size, it feels beautifully calm inside and the glorious interior decoration is awe-inspiring. A few years ago, the bell tower was restored and now you can climb up it and take in the spectacular views. Cordoba also boasts the best flamenco museum in the area. As well as understanding the history of the dance you can have a go at beating out the rhythm or watch a live demonstration.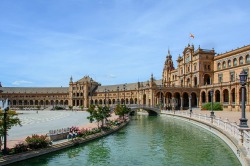 Seville
The capital of the Andalucia region, Seville is a charismatic city well known for its fiestas. The Gothic cathedral in the heart of the city is the site of the explorer Christopher Columbus's tomb. Alcazar, which was built predominantly in the 1300s is a splendid castle with mesmerizing archways and such an intricate building design that it became a World Heritage site in 1987. Seville has a mixed heritage so you can visit Roman ruins, admire medieval engravings and take in the colonial sights at Arenal. This varied cultural canvas provides visitors with much to appreciate. Another brilliant deal via Clarify Car Hire - For the week beginning 9th March 2017, Alamo are offering an incredible daily rate of just £9.50 for car hire in Seville. You can find Alamo within the terminal building.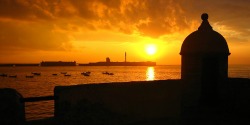 Cadiz
As a port city on the Atlantic Ocean, Cadiz has been a base for exploration and a naval base. Just take a look at all the watchtowers along the coastline! Founded in 1100BC by the Phoenicians, this ancient city has a history well worth bragging about. The restaurant Casa Manteca with its walls smothered in mementos from flamenco, bullfighting and the Carnaval is a focal point. Spanish cuisine in this region is varied due to the mixed ethnic influences - in Cadiz you will find plenty of seafood! This city with its memories of a bygone age and its walls protecting the streets against the waves of the Atlantic Ocean has a distinctly romantic feel.
Jaen
Inland in central Southern Spain lies the city of Jaen. Another unearthed gem of a city, Jaen has an array of Renaissance buildings to offer to visitors and in the Museo de Jaen there are Iberian sculptures that are over 2500 years old but are in such a good condition their age is hard to believe! Jaen is also home to the largest Moorish baths still in existence in the whole of Spain. They were built in the 11th century. Wandering through the city streets, you will also be able to drop in to one of the pottery shops to pick up a souvenir of your visit. Many items have the traditional Moorish green glaze.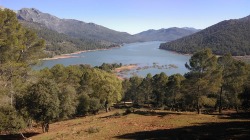 Driving through the southern regions of Spain, gives you the opportunity to enjoy the wonderful landscape of the area. Stop off at one of the many National Parks (such as Cazorla pictured here) for a stroll to stretch your legs or pull into a local village for something to eat on your way. Before you set off, do make sure you know the rules for driving in Spain and that you have all the equipment you need to be safe on the Spanish roads.
Visit our sister site Clarify Car Hire for more amazing deals.
All photos courtesy of Pixabay