Sally Wilson
Sally is a key member of the MoneyMaxim editorial team. She is a frequent hire-car user and often goes on holiday with her family. With an interest in getting great value for money, Sally shares her hints and tips for travelling and insurance.
22 July 2015
Driving in Europe this summer? Check your insurance.
Your UK insurance may not cover you for driving on the continent.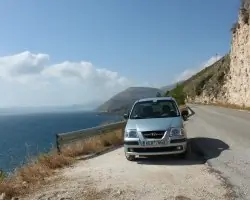 If you are planning on driving your own car across Europe this year or perhaps you are thinking of a day trip to France, do you know if you are adequately insured? Do not presume that your current policy will cover you if you are driving abroad.
Some car insurance policies include a basic level of cover for driving in Europe, but this will be at the lowest level possible. This is so that you are legally allowed to drive in the countries specified in your policy document. Other insurance companies may require to be notified if you are taking the car abroad. Some insurance providers offer an option to add European cover for an additional fee. The green card that used to be required as proof of suitable insurance is no longer required in most countries, however, some insurance companies refer to their European cover as 'Green Card cover'. You might want to consider long stay european car insurance if you want the freedom to travel abroad for longer periods of time.
Another type of cover to consider is breakdown insurance. Several companies offer a breakdown service alongside insurance and some will offer a better deal if you take them both out.
Both the AA and the RAC offer single trip cover abroad, but remarkably it is often cheaper to get a year round car breakdown insurance policy with European cover packaged in. Run a quote through the link above and you can filter the results to those offering overseas cover.
As with any insurance policy its important to read the small print. Most policies (including those from the big names) have a maximum claim limit, so be mindful of the type of trip you are making. The cost of repatriating your car from Greece could be very significant so you might need a premium policy for a journey to the far end of Europe.
Companies which offer an option for European travel as well as additional breakdown cover for extra fees include:
Cooperative

Aviva

Swiftcover
Companies which offer 90 days maximum European travel per year as standard with their car insurance (at the same level of insurance as you have in the UK) and offer breakdown at an additional cost include:
You must always read the terms and conditions of any policy carefully before you buy especially if you want to ensure that you are driving legally in a foreign country. The RAC provide a very useful service which shows the requirements for each country. If you are travelling abroad, it is also important to consider travel insurance as any injuries to yourself or your passengers as the result of a car accident, will not be covered by your car insurance.