Sally Wilson
Sally is a key member of the MoneyMaxim editorial team. She is a frequent hire-car user and often goes on holiday with her family. With an interest in getting great value for money, Sally shares her hints and tips for travelling and insurance.
13 April 2016
85 years old - The Highway Code celebrates a lifetime helping learner drivers
Practise your new skill and gain confidence with Learner Driver insurance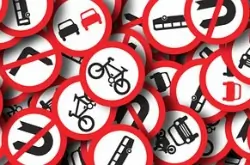 Back in 1931, the world was feeling the after effects of the Depression in the US, the Empire State Building was completed and World War Two hadn't happened. But here in the UK a new 18 page booklet was published in April of that year entitled The Highway Code - to help the 2.3 million drivers of the day understand how they could drive more safely. This handy information would have cost you just a penny! 85 years on and it is still helping new drivers learn the rules of the road particularly with the theory test which became compulsory in 1996.
Learning to drive is an important life skill. Many people use a qualified instructor for the majority of their lessons but it can also help to get extra practise in another car. To do this you need learner driver insurance either to cover you to drive your own vehicle or for you to practise in a borrowed car. In either situation you will need to be accompanied by a qualified driver. Although driving licences were introduced in 1903, they were just for identification purposes. The first driving test was not passed until 1935. Since then more than 46 million tests have been taken.
The 1st edition of the Highway Code didn't cover the use of mirrors, drivers were instructed to use their horns when they wanted to overtake and a third of the book was taken up with how to use hand signals. There was even guidance for drivers of horse-drawn vehicles. The 2nd edition introduced ten road signs and shockingly gave the first warnings about driving while under the influence of alcohol. Motorway advice first appeared in the fifth edition with the opening of a section of the M6 near Preston in 1958.
Road safety has come a long way in the last 85 years despite all that may be read in the media. In 1931 there may have been far fewer drivers on the road but there were more than 7000 deaths as a result of road accidents. Compare that with today's figures - 1775 people lost their lives on the road in 2014 despite there being more than 27 million drivers.
Thankfully most accidents are not serious. But if you are involved in a minor collision it can still be very frustrating. Having the right car insurance can make the process of claiming for any damages much more straightforward.
Image courtesy of: Pixabay