Sally Wilson
Sally is a key member of the MoneyMaxim editorial team. She is a frequent hire-car user and often goes on holiday with her family. With an interest in getting great value for money, Sally shares her hints and tips for travelling and insurance.
18 May 2016
Take an alpine adventure when you travel on your hire car road trip
Explore a land of castles and mountains with car hire from Munich airport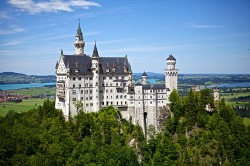 Southern Germany and Austria are famed for their breathtaking scenery - bright, majestic mountains and dense, dark green forests with tranquil lakes scattered across the landscape. A road trip through this part of Europe is a fairytale ride!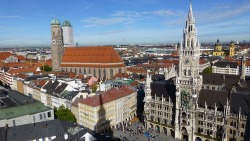 Hire a car for two weeks in August from Munich International Airport for about £270 and set off on your alpine adventure. Don't forget to let your car hire provider know if you intend to take the car across a border. Munich is the capital of the state of Bavaria, Germany and whether you choose to linger in this captivating city at the beginning of your holiday or to spend your last few nights there, is up to you but it has plenty to offer. Accommodation in the city centre can be quite pricey but the S-Bahn network around the city is superb so you can easily find accommodation within reach of a station and travel into the city centre by train.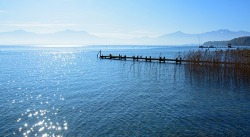 If you want to drive straight out of Munich, head for Chiemsee, Bavaria's biggest lake to the south-east. This is a picture perfect location only an hour's drive away from the city. Relax with a good book by the lake, go for a hike to find some stunning views or take a boat ride to visit Schloss Herrenchiemsee. One of King Ludwig II's castles, it was modelled on the palace of Versailles and includes magnificent gardens with splendid fountains.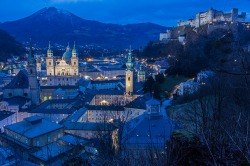 Chiemsee is also a good stopping point on the way to Salzburg, the birthplace of Wolfgang Amadeus Mozart, in Austria. Before you cross the border and if you are driving on any Austrian motorways or 'S' roads, you need to purchase a vignette (toll road pass). These are available at petrol stations and newsagents near the border and cost EUR8.80 for a 10 day vignette for a private car. Visit the fortress Hohensalzburg which is the biggest complete fortress in Europe or step into the original home of Mozart himself located on one of the prettiest streets in the city. Austrian food is delicious and if you find one of the restaurants has Salzburger Nockerl on the menu, don't waste the opportunity to give this local dessert a try. About half an hour from Salzburg are the saltmines at Hallein. Steps and slides lead down into the cavernous interior of these amazing works. A lot of fun for all the family. Slightly further south are the Ice caves at Werfen. This unique natural phenomenon is open daily until October.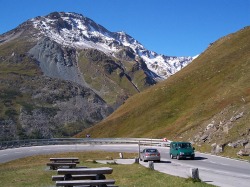 Drive east from Werfen, stopping at picturesque Zell-am-Zee if you wish, and you will find yourself within reach of some of the most stunning roads in Europe. The alpine routes twist and turn their way through the mountains, sometimes at quite hair-raising angles but the views are well worth it. The Gerlos alpine road will take you further west. Along this road there are the Krimml waterfalls. There is also a waterpark which has fun activities for the children as well as information and exhibitions.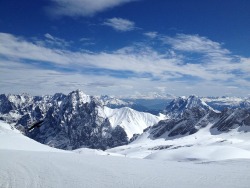 Innsbruck provides a breathing point on your alpine journey. Take a cable car up the mountains which overlook this impressive city or you can even stand at the top of a ski jump and see exactly what those daredevil sportsmen face. There are plenty of museums, churches and palaces to visit or take the children to the Alpenzoo. This small animal park includes bears and wolves. Journeying north west from Innsbruck will bring you to the Wetterstein mountains. Here, the Zugspitze is, at 2962m above sea level, the highest peak in Germany. But it's ok, you don't have to climb it to enjoy the stunning scenery! There is a cable car to transport you to the top or alternatively toboggan runs provide the thrill of sliding back down the mountainside even in the summer.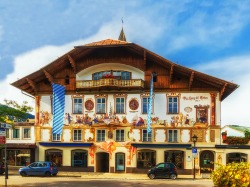 Only half an hour away, on the route straight towards Munich, is Oberammergau. This beautiful village, famed for its passion play and wood carving, sells Christmas decorations all year round. You can find yourself caught up in the festive spirit so make sure you have some room for souvenirs in your hire car! Alternatively if you want to take a slight detour west, there is Neuschwanstein castle. probably King Ludwig II's most famous as it was used in the film Chittychittybangbang.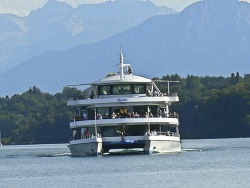 Starnberg is an ideal base if you are looking for a base to stay in whilst you explore the city of Munich. It is on the S6 train line which runs at very regular intervals straight into the centre of the city. The station is right on the shores of the Starnbergersee, the lake where King Ludwig II himself drowned. You can spend a day enjoying a meal overlooking the lake, taking a boat cruise around the lake or , if you are game, hiring a rowing boat.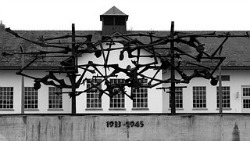 Munich is a city with something for everybody - history, architecture, great food, gardens, shopping and a zoo are just a few - all very accessible via Munich's transportation system. A visit to Dachau concentration camp memorial is a poignant experience. The camp was liberated by American troops in 1945 and twenty years later the memorial was established. There are various guided tours available to help you take in some of the most prominent landmarks of Munich city centre. And after your tour, stop off at Rischart's for 'Kaffee und Kuchen' or at the Augustiner restaurant for some traditional Bavarian dishes.
Hiring a car can open a holiday up to so much more as we hope our 'Journeys with your hire car' series has shown you. If you are planning your own road trip or taking inspiration from one of ours, you can find car hire excess insurance through our comparison service. These policies will cover you for the excess on the standard insurance with your car hire.
Photos courtesy of Pixabay
Price for hire car based on Intermediate sized car from 6th-20th August 2016 booked on 11/05/16.