Sally Wilson
Sally is a key member of the MoneyMaxim editorial team. She is a frequent hire-car user and often goes on holiday with her family. With an interest in getting great value for money, Sally shares her hints and tips for travelling and insurance.
9 January 2018
How wedding insurance can help your big day go smoothly.
A wedding insurance policy is there to safeguard your wedding plans against unforeseen circumstances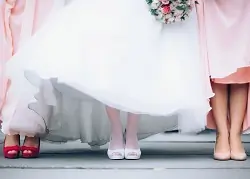 Christmas is the most popular time of year for marriage proposals. An online wedding planner forecast that about 100,000 people would pop the question over the 2017 festive period which means - presuming the answers were yes! - that there will be many weddings being planned for this summer. And with Valentine's day coming up there may be more love in the air. It may seem like the least romantic topic but wedding insurance should be one of the first things on the list. At MoneyMaxim you can compare wedding insurance policies to find the right fit for you.
Wedding insurance is important to reduce the likelihood of you being left out of pocket should something go awry with your wedding plans. Paying by credit card is not a certainty that you will be able to recover funds if you need to cancel the wedding. It may well cover you if the venue lets you down and there is a breach of contract but, should you need to rearrange the wedding for your own reasons, they are unlikely to be able to help (unfortunately no wedding insurance policy will cover cancelling a wedding due to a change of heart).This is where wedding insurance comes in. It can cover you should there be an accident - perhaps someone tips champagne over the bride's dress or the cake topples over - or if your suppler goes bankrupt.
Harry Windsor and Meghan Markle are not the only ones getting married this year although theirs will probably have the grandest ceremony - not many will be getting married at Windsor Castle or having their wedding shown on television - but each and every couple hope their day will be the most special. Protect your dress, the rings, the flowers, cake and even the wedding presents by taking out a wedding insurance policy. It can make a big difference if you have some bumps in your plans.
We compare policies from many of the leading wedding insurance providers so you can find the cover that is suitable for everything you have up your sleeve for the big day. Our handy table gives you a clear overview of what levels each type of policy offers so you can make an informed decision. Whether you are choosing a small intimate wedding or something more towards Harry and Meghan's scale, then there are policies available to you.
You cannot prevent bad weather nor foresee accidents, and redundancy can come as a shock, but you can make sure that all these unexpected events don't ruin your big day.