Sarah Smith
Sarah looks after our email marketing. She loves to travel and is keen to pass on any great ideas to our customers. Watch out for her newsletters for hints on how to make the most of your car hire and tips on making your money go further.
9 May 2017
David Neal - MoneyMaxim Staff Travel Q&A
Get to know David Neal, Head of Customer Service at MoneyMaxim with our Staff Travel Q&A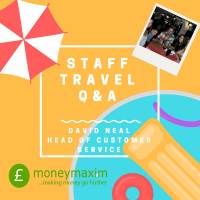 David - Where is your favourite place in the world to go on holiday and why?
I've been very fortunate in travelling to different parts of the world and many places are unique in their own very special way. Being on Safari in Kenya, seeing the delights of Asia, Santa in Lapland, the Pyramids of Egypt, the beautiful white beaches of the Caribbean, big bustling America, the tranquillity of the Maldives, seeing the sites of Venice by Gondola and visiting the Holy lands. All wonderful memories for sure.
Difficult to choose as such, but one of my biggest wow's was probably in Cairo, when one minute you are driving through the city and then it feels like you just turn a corner and you then enter a desert !!! Yes, we did do the camel ride to the pyramids, which was even more fun when my wife's camel sadly got stung, which resulted in the Camel running away (it bolted, without the handler) with my wife racing past us all and with the handlers doing their very best to catch my wife and the camel of course!!!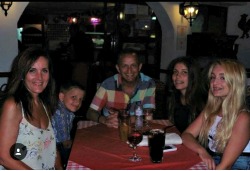 Favourite holiday past-time?
Quite simply, I'll just love getting away. It provides a wonderful break from the normal day to day life, spending some quality time with the family, with the sun beating down, good food, a drink or two, relaxing and enjoying what that Country has to offer. Roll on the next one!!!
Favourite food & drink?
I enjoy most foods, hence my waist line!!! I love spicy food as well, but I do enjoy Kleftiko with roast potatoes, rice and a Greek Salad with Olive oil .On holiday, if my lovely wife is also drinking wine over dinner and also my daughters (who are now becoming more of the drinking age, yes more expense !!!) we tend to enjoy a bottle or two of Rosa. Although, Mr Neal does very much enjoy a cold pint of lager on holiday as well, sitting outside bar with the sun shining, topping up the tan, very nice indeed.
Do you go on package holidays or plan them yourselves?
We actually own a Timeshare which has its own hotels and apartments in certain countries and also linked to a Worldwide Exchange, which can provide variety. Although this year, my daughter is using our Timeshare with her friends due to leaving Sixth Form and before they all head for university, so we have booked an All Inclusive packaged deal to Mexico, in celebrating my daughters forthcoming 18th & 16th Birthdays, although it is actually my birthday when we are there !!!
Who does the researching and booking of holidays in your family?
I do as such. Although, this is very much based on 4 other family members telling me where in the World they would like to go first!!! Our main holiday is normally booked through liaising with our Timeshare Club, but all our Flights, Currency, Travel insurance, Car Hire, etc, but my very first port of call is of course to our very own Moneymaxim. Great way of comparing what's out there and if you would like to give me call at any time when you are next booking your next holiday, then I be delighted to assist you as well.
I do very much hope to hear from you sometime our readers, but in the meantime, Happy Holidays to all, enjoy……
David Neal is Head of Customer Service at MoneyMaxim