Sally Wilson
Sally is a key member of the MoneyMaxim editorial team. She is a frequent hire-car user and often goes on holiday with her family. With an interest in getting great value for money, Sally shares her hints and tips for travelling and insurance.
5 July 2016
Create your own Tour de France this summer - but remember bike insurance
Bicycles are an optional extra on most home insurance policies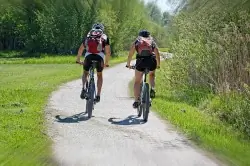 The annual Tour de France cycling competition began on the 2nd July this year with Mark Cavendish winning his 27th and then 28th stage in Angers. World champion Peter Sagan took his first much-coveted yellow jersey after winning his fifth stage at the race.The Tour de France first took place in 1903 and is located mostly in France with some stages occasionally running into other nearby countries. If you fancy organising your own cycling holiday in France or further afield, don't forget to check if your bikes are insured.
Most pedal cycles can be covered under your home insurance but it is not always included as standard and, even if it is, not all policies will cover your bike if it is out of the country. You may have to select bicycle cover as an optional extra and often there are different levels of cover. John Lewis home insurance, for example, will cover pedal cycles anywhere in the world under their bicycle option up to the value of £500 with their Essential cover and up to £1000 with both the Plus and Premier options.
Ensure any insurance will be adequate for your needs - particularly with a view to where the bike will be stored when not in use. Some insurance policies will insist the bicycle is locked to an immovable object when unattended, although some include cover when you secure your biker to a vehicle.
If your own home insurance cannot give you the protection you need or you want to insure your bicycles separately from your home, you may find that Protect Your Bubble can help you. They offer a specific bicycle insurance including options for multi-bike discounts and EU cover. They will cover bikes - from mountain bikes to hybrid bikes - up to the value of £8000 including custom-made bikes.
If you are planning on more extreme forms of cycling whilst you are on holiday - perhaps you are going mountain biking in the alps or the kids are hoping to go BMX biking - then bear in mind that your travel insurance in unlikely to cover you unless you have selected their adventurous sports option and it is listed in there. Specialist Mountain biking insurance and BMX biking insurance is available if your travel insurance provider does not include it.
Wherever you are going with your bike, a sturdy lock, lights and a well-fitting helmet are just a few of the important considerations before you set off on a cycling holiday abroad.
Photo courtesy of Pixabay