Sally Wilson
Sally is a key member of the MoneyMaxim editorial team. She is a frequent hire-car user and often goes on holiday with her family. With an interest in getting great value for money, Sally shares her hints and tips for travelling and insurance.
9 February 2016
Driving offences abroad can follow you home
A new EU Directive allows for the exchange of driving information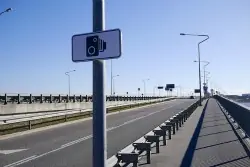 Many people will be planning to drive through Europe on their holidays this year. It can be a great experience driving in other countries but just occasionally something goes wrong. A new EU Directive came into force in May 2015 which allows for information on traffic offences to be exchanged across borders. This means that should you be caught on camera using your mobile phone in France for example, the French authorities will still be able to fine or prosecute you.
While the UK has until May 2017 to enforce this directive - due to having to install new systems - it doesn't mean that you will be able to get away with any offences until then. Many offences involve an on-the-spot fine. From May 2017 you may be fined and European police forces will also be able to put points on your licence.
The rules are not always the same from one country to another so make sure you have had a look at the rules for the country you are driving in before you go. These are some rules that you may not be aware of.
France Drivers with less than 3 years experience have a 0.02% blood alcohol limit which basically means do not drink at all before driving.
Hungary The blood alcohol limit is 0%. Do not drink and drive.
Norway Dipped headlights are compulsory during the day.
Spain The use of full beam headlights in built up areas is prohibited
Germany There are speed restrictions on the motorways!
Speed limits vary across Europe and it is important to become familiar with those applicable to your journey. Do not presume that speed limits are the same from country to country. Use the link to the AA guide above for more help.
If you are going skiing, we can provide you with some tips for driving in snowy conditions. There are many long tunnels through the mountains in Europe too so familiarise yourself with the rules regarding them. Some countries require special equipment to be kept in the car particularly in winter.
One of the most common offences - although a civil offence rather than driving - is parking. It is not a good idea to ignore a parking fine should you receive one. These can also be followed up across borders by European debt collection agencies. If you do not respond to the original fine and it goes through an agency, it can end up costing you a lot more.
If you are driving a hire car, you will have signed an agreement that you will be liable for any offences or penalties incurred should you drive the car irresponsibly. That means that the hire car company will pass on your details should the authorities require them. Any fines along with the company administration fees will also be charged to yourself. Should you be considering taking a hire car across a border, ensure you have agreed this with your hire car company.
Image courtesy of: Pixabay