FAQ Section
>
Car Hire Frequently Asked Questions
>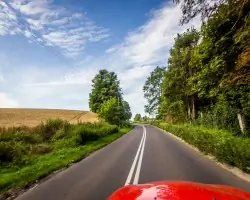 Can I take my hire car cross border from one country to another and how much will it cost me?
Find out what the general policy is on taking your hire vehicle cross border and any limitations you may face.
If you are picking up your car in one country and dropping it back in another
If you've arranged your car hire to pick up the car in one country and drop off in another then obviously it should be fine. You can expect significant extra charges to drop a car off across a border. This is in part because the car will need to be returned at some point. Only certain companies will allow this as there is a cost incurred with transporting the vehicle back to its original country and, in most cases, cars have individual number plates in line with those within each country and so they cannot be hired anywhere other than their original country. The price quoted would normally include the cross border charges but we'd recommend checking the terms and conditions of hire as it may be stated as a local charge to be paid at the hire desk.
If you are picking up your car in one country, driving to another, but returning to the original one
For car hire picking up and dropping off in the same country but allowing use cross border the picture is more mixed. Often cross border use is simply not permitted, but the closer you are to a border, the more likely it is to be allowed. For example if you hire in Munich then crossing the border into Austria is common. Some car hire brokers like Auto Europe include a tick box on their booking form to indicate cross border use is required.
Always check the car hire terms and conditions for cross border charges. Often the hire company's insurance will be limited to their home country.
You will also normally find that the hire company will expect you to be responsible for ensuring any differences in compulsory equipment required by the cross border country are sorted. For example, you may need a single reflective jacket to be provided in the hire car in its home country but the country you intend to visit requires one per passenger. The AA and RAC have details about driving rules in other countries.
Should you have any further questions or queries, please do contact our team through either our online chat or telephone in our office hours and we will be happy to help!
Compare car hire insurance prices with MoneyMaxim
This content was last reviewed on 19/10/2021
Similar Questions
General Car Hire Queries Answered
Driver and Passenger Related Car Hire Queries Answered