FAQ Section
>
Car Hire Frequently Asked Questions
>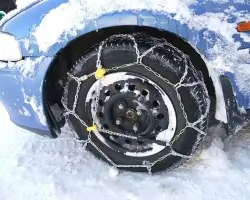 I booked snow chains, a roof rack or a roof box - what happens if they are not there when I arrive?
We explain what happens if you have booked snow chains, a roofrack, roofbox or winter tyres, but when you arrive they are not on your hire car.
If the reason is that the car rental office does not have the right size to fit your rental car, ask if they have a larger vehicle which does have the appropriately sized accessories available (or will fit your luggage) inside.
If not, ask if another local office can deliver the necessary accessories to you.
If the accessories are not necessary immediately (say you need snow chains when you get to the mountains) suggest you buy some on the way (almost all motorway service stations carry stock), and that the hire car firm reimburses you when you return to drop off the car.
Find comprehensive car hire excess insurance on the MoneyMaxim car hire insurance comparison service.
If you have any queries please do not hesitate to contact the MoneyMaxim team.
This content was last reviewed on 19/10/2021
Similar Questions
General Car Hire Queries Answered
Driver and Passenger Related Car Hire Queries Answered