FAQ Section
>
Car Hire Frequently Asked Questions
>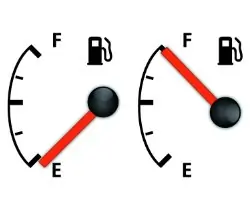 Which fuel rules apply to hire cars?
We explain the fuel 'rules' around returning your car, to save you from being unnecessarily charged.
Firstly you must find out which fuel you need for your rental vehicle - sounds obvious but if you are in a unfamiliar vehicle it's easy to forget! If you do use petrol in a diesel car or vice versa hire cars will term it as driver negligence and you will have to foot the bill for cleaning the tank. Fortunately a number of the insurers on the MoneyMaxim car hire insurance comparison service now cover 'misfuelling errors' reimbursing up to £500 of the cost of cleaning out your fuel pipes (although this doesn't extend to repairing the engine if serious damage is done).
When it comes to fuel policies adopted by car rental firms, they normally adopt one of the three following options:
Full to Full: You pick the hire car up with a full tank and return it full. Check the gauge when you collect the vehicle and, if it's not full, talk to the car rental firm and arrange to return it with the same reading. Also, if you are returning the rental car on a Sunday or at night, check the nearest petrol station that is likely to be open - maybe at a motorway service station?
Many 24 hour petrol stations only offer automated payment out of hours and may only accept credit cards from that country, so bear that in mind as well. Keep the receipt from your last fuel purchase - hire companies sometimes ask to see it, having got wise to the fact than in many cars the fuel gauge indicates full even when it's been driven 50 miles!
Full to Empty: Your car hire rental payment includes a tank full of fuel, or you have to pay for it when you pick up the car. Fine if you are likely to use it all but, if you are only hiring for a day or two, watch out for this practice (check with the rental company before booking if necessary).
Same to Same: The drawback to this policy is estimating how much to fill up the car. Take a photo of the gauge before you set off so you know what level the fuel tank was at.
Whilst these are the most commonly used fuel policies, there are other options so read your car hire details carefully, as returning a car full when you are on a Full to Empty policy is very expensive - as the rental company will not reimburse you.
If you have any problems deciphering the fuel policy with your hire car then contact your hire company for clarification. We are also on hand to help!
This content was last reviewed on 07/02/2022
Image courtesy of: Salvatore Vuono at FreeDigitalPhotos.net
Similar Questions
General Car Hire Queries Answered
Driver and Passenger Related Car Hire Queries Answered