FAQ Section
>
Car Hire Frequently Asked Questions
>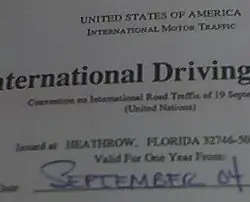 Do I need an International driving permit to hire a car abroad?
How to find out if you need an International Driving Permit (IDP) when driving abroad. We explain the ins and outs of international licence requirements.
Hiring in the UK
As the paper driving licences have been phased out, there are some car hire companies, particularly in the UK, who may require you to show if your have any endorsements or not. You can do this through the Share my Licence scheme from the DVLA. An International Driving Permit is ot required however for anyone with a licence that is in Roman Type script.
Hiring in the EU
Following Brexit, the rules for driving in the EU have changed slightly. If you hold a photocard licence that has been issue by either the UK or in the Northern Ireland you are able to drive in the EU for up to 30 days without an International Driving Permit.
If you are hiring for more than 30 days, it's worth checking on the gov.uk website for the rules for the particular country you are visiting.
If you hold a paper licence issued in the UK or Northern Ireland or a licence issued by Gibraltar, Guernsey, Jersey or the Isle of Man you will need an International Driving Permit for driving in the EU regardless the length of your stay. Again, the gov.uk website is a great resource for checking which International Driving Permit you will need for which country.
Hiring Worldwide
International Driving Permits are often required if you are going to a country that doesn't use the same alphabet as we do (Chinese, Japanese, Russian etc). Whilst not a legal requirement, an International Driving Permit is recommended by the AA for Canada. It is also recommended to have an International Driving Permit in the USA. The AA publish the full list of IDP requirements by country.
However occasionally car hire firms insist on one in other countries. Your car rental agreement will specify licence requirements so please do read it carefully.
International Driving Permits are valid for 12 months and you can pre date your permit to start up to three months after you apply. They cost £5.50 over the counter at larger Post Offices - search for them www.postoffice.co.uk/branch-finder
You may also find that there are restrictions if you have driving offences recorded on your licence. Many car rental firms do not hire cars to those with driving bans, past drink / drive convictions or those with a significant number of points.
If unsure please contact your car hire company for more information.
Compare car hire insurance prices with MoneyMaxim
If you have any queries do call a member of the MoneyMaxim car hire insurance team.
This content was last reviewed on 11/02/2022
Similar Questions
General Car Hire Queries Answered
Driver and Passenger Related Car Hire Queries Answered