FAQ Section
>
Car Hire Frequently Asked Questions
>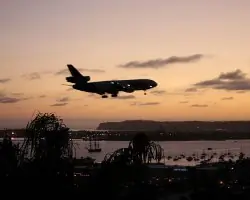 If I arrive late and want to pick up my vehicle the following day is this OK?
We explain the ins and outs of late arrival car hire, and what happens if you are late to pick up your car.
If you have pre-booked, keep the car rental company informed - there will be a telephone number on your booking paperwork. Often at airports the cars are kept 'off-airport' as storage is more expensive near airport terminals and, therefore, it's important they know what is happening so they can make sure a vehicle is available when you want it. Many will also have defined when they consider the contract to have been terminated due to non arrival, but are pretty flexible as long as they are kept informed.
Even at airports, car rental offices do close at night, and off airport some close for lunch too so you may have to wait until the office has reopened to collect the car. If you have pre-booked a car and your rental company are aware of your flight number they tend to remain open if your flight is delayed - in our experience for around an hour after your plane has landed. If more than one of you are travelling, it can be worthwhile getting the car hirer to go ahead to collect the car whilst others remain in the baggage hall for luggage to arrive.
If you have a flexible booking you should be able to rearrange the car hire at fairly short notice, although if you have a 'fixed' booking you will probably forgo the cost of the period between the time you were expected to take the car and when you actually did.
Compare car hire insurance prices with MoneyMaxim
If you have any queries do call a member of the MoneyMaxim car hire insurance team.
This content was last reviewed on 16/10/2020
Similar Questions
General Car Hire Queries Answered
Driver and Passenger Related Car Hire Queries Answered