Sally Wilson
Sally is a key member of the MoneyMaxim editorial team. She is a frequent hire-car user and often goes on holiday with her family. With an interest in getting great value for money, Sally shares her hints and tips for travelling and insurance.
4 June 2020
Short term and Annual Car insurance options helps House Swappers arrange their exchange
Choosing a house swap holiday can save you money but how do you insure your car?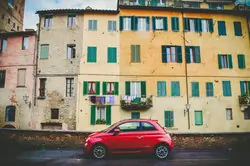 With the fall of the pound against the dollar and the euro, many are faced with the dilemma of trying to find an affordable holiday this year. House swapping has become a popular way to cut costs and, with the inclusion of a car in the swap, it can take those savings even further. We have frequent queries from customers about how to insure their car if they lend it to their guests.
The obvious choice is to try and add your guests to your own car insurance policy. Even if you are happy to do this, many car insurance providers are not willing to add foreign residents to their policies. We have however found an insurer who can source policies which allow non related drivers from both the UK and overseas to be added - it you would like a call back to discuss this further please complete our online form.
This is really best done at the time of your annual insurance renewal, as cancelling your existing policy and moving to a more flexible one can incur fees, but it does provide an option for many.
An alternative option is to use short term car insurance. These policies can cover residents of several countries including those from the EU, Australia, Canada and South Africa.
The benefit of short term car insurance policies is that they are fully comprehensive and completely separate from your own insurance. So, if your guest has an accident in your car, it will not affect your no claims bonus. The downside is they can be more expensive than the extra premium for an additional driver to a policy - if this is possible. Any short term car insurance would need to be bought by your visitors.
When it comes to insurance for the car you may be borrowing, you would need your house swap partners to look into adding you to their insurance or an alternative insurance through a provider in the country you are visiting. If insurance becomes an issue, then you could always consider hiring a car.
Accommodation is one of the biggest expenses of a holiday and the lack of any currency exchange in a house swap is a huge advantage. One of the biggest house swap companies in the UK calculated that an average family house swap lasting 15 nights could save a family an average of £2750 on accommodation. And what's more - 40% of their customers swap their cars too!
Lastly - If you are considering a house swap, contact your home insurance provider before you take part. Some may be happy for you to proceed without any changes to your policy whilst others may require the payment of an additional premium. The last thing you want is to return to your home to discover damage by your guests is not covered.